As a business owner, you know that adapting to changes is more important now than ever before. COVID-19 has accelerated transformation in the way we work today.
There is less foot traffic in physical stores as consumers prefer online shopping during the pandemic. So if you plan to evolve, stay ahead of the competition, and grow your SME's e-commerce platform and online presence, refinancing your existing office or business property is a good way to boost your working capital.
With property prices dropping in Malaysia, it's also a good time to acquire properties for business purposes. Thus, whether you are seeking additional capital or looking to own new properties, property financing or refinancing can benefit your enterprise.
Related: Digitalisation: Unlocking The Potential Of SMEs In Malaysia
How property refinancing works
Some businesses will look for property loans that offer better terms than their existing loans—such as lower interest rates. Once your new loan application is approved, it will pay off your existing debt all at once. Then the only loan your business has to service will be the new loan.
Related: Can SMEs Survive The COVID-19 Economic Slowdown?
Factors to consider before refinancing
Lower interest rates
COVID-19 has negatively affected the economy in various ways, but one positive impact from the pandemic has been the favourable mortgage interest rates.
Malaysia's lending rate depends upon the Overnight Policy Rate (OPR) determined by Bank Negara Malaysia (BNM). Thus, whenever OPR decreases, the banks will also lower the Base Lending Rate (BLR). As a result, lenders can borrow at a reduced interest rate.
To counter the economic impact of the pandemic, BNM has cut the OPR to a record low of 1.75% to encourage people to take loans. This can be highly beneficial as refinancing loans under reduced interest means lower monthly payments and tons of savings for your company.
Additionally, the interest rate charged by banks for property refinancing is also lower than normal working capital financing, a loan facility to help you finance your company's daily operating needs via traditional bank loans, overdrafts, and business credit cards.
So when you refinance a property, you can use the money saved from paying lower interest charges for other aspects of your enterprise—such as building a standby capital, or settling other business loans with higher interest rates.

By refinancing your loan under reduced interest, you can enjoy lower monthly payments and tons of savings.
Loan tenure
By refinancing your property, you may get a shorter or longer loan tenure. A shorter tenure is ideal if you are looking to pay off the loan in a shorter time period.
However, if you are looking to use that extra money for other concerns, a longer loan tenure would suit your business better.
Financing fees
Be sure to check with your bank about the fees that come with refinancing your property or taking out property loans. Common charges include processing fees, valuation fees, and legal fees.
Related: 4 Reasons Why Your Business Should Have a Business Bank Account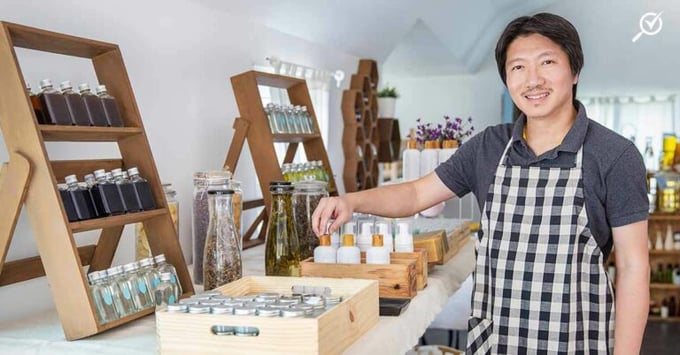 With CIMB Biz Property Financing, you can get up RM5 million in financing.
How CIMB Biz Property Financing can help your business
Margin of financing
With CIMB SME Biz Property Financing, you can obtain up to a 120% margin of financing. The funds can be used to finance the purchase of properties, refinance your existing properties, or boost your company's working capital.
How much will I receive?
You can get up to RM10 million (RM10,000,000) in financing.
Additional benefits of CIMB SME Biz Property Financing
You have an option to attain an additional unsecured working capital of up to RM1 million as a standby fund for your business needs.
Flexibility on product range (i.e. term loan, overdraft, trade facilities). Choose a product that suits your business operation.
Option to select full flexi financing under CIMB Islamic term financing-i
Eligibility
Applicable for SMEs
Applicable properties include commercial, industrial and residential properties.
Want to find out more about CIMB SME Biz Property Financing? You can visit this CIMB page for more details about property financing and refinancing for SMEs.