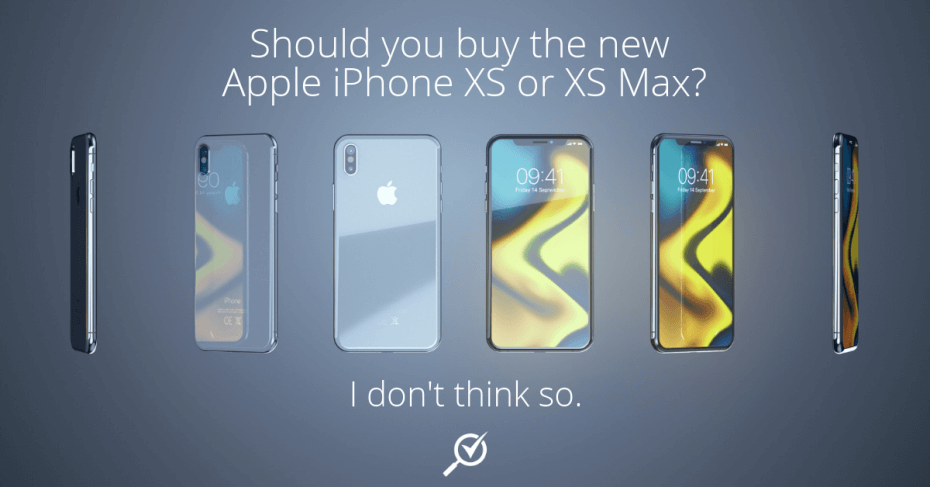 Apple recently announced their latest Apple iPhones for the year of 2018, the iPhone XS, XS Max, and a more "budget-friendly" (not really) iPhone XR. The new iPhone will come with the usual "S" upgrades, with better processors, a better display, a better camera – all the upgrades. I don't think you should buy one though.
The exorbitant price of the iPhone XS and XS Max (and XR).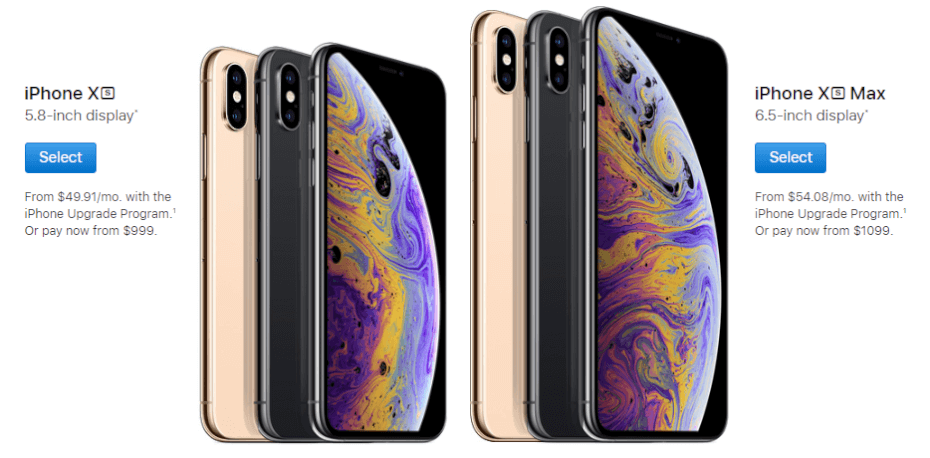 Apple USA pricing, currency in USD. Source: Apple
Let's face it, this will be the forefront of all the factors if you're looking at the Apple iPhone XS or the XS Max – even the supposedly "budget" iPhone XR. The iPhone XS starts from $999 (RM4200), the iPhone XS Max from $1099 (RM4600), and the "budget" iPhone XR is at $749 (RM3103). That's a lot of money to drop on a smartphone, even for Americans (who are willing to go in debt for it), that will – hopefully – last you for at least four years.
With the price of the brand-new iPhone XS at an estimated RM4200, you could buy yourself a cheaper smartphone that's still plenty capable for most daily usage, like a Samsung Galaxy A8 or, if you really want to stay in the Apple team, an iPhone 7 at price of RM2199 from the Apple store. With that, you'd still have plenty of spare change for everything else!
The iPhone XS isn't that much of an upgrade from the iPhone X
It's usually all "ooh" and "aah" when it comes to a new iPhone; a new iOS is launched, a new processor replaces the previous one, a slightly better camera and so on. This time, however, it doesn't seem that way. Most tech critics and reviewers of the iPhone XS and XS Max have said the same thing: While it is an improvement over the iPhone X, the difference in performance is pretty much indiscernible to most. (Could you tell that the feature image is an iPhone X, not an iPhone XS?)
Wired UK has put together several different reviews of the new Apple iPhone XS and XS Max, and they came to a conclusion: "... they are basically fine but also basically not worth buying."
Apple knows this too, as it immediately discontinued the iPhone X from its line-up when the iPhone XS launched, instead of moving it down to a lower price point as it always has done before. The iPhone X is still available through various retailers, though. So, if you really die-die must have the full-screen design of the iPhone, then the iPhone X is a much better choice from an economic standpoint – its camera is still great, and it is still plenty fast.
"Cheap phones are getting good. And good phones are getting cheap."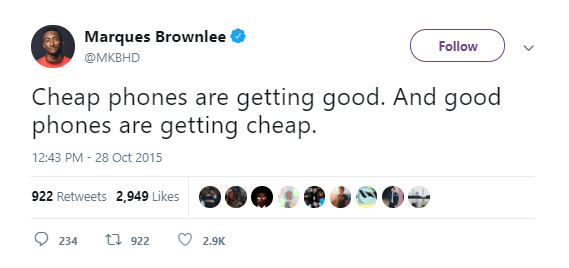 Like the wise-words from tech-YouTuber MKBHD, cheap phones are indeed getting better and good phones are getting cheaper to buy. A mid-ranged phone released five years ago(typically RM100-RM2000 today) wouldn't have had good consistent performance today. Mid-ranged phones today, however, deliver great performance that's almost more than enough for most day-to-day usage! You can also read up on Android Central's article on how mid-ranged phones could be a better option.
Prices of flagship smartphones have also gone up from before. A top-of-the-line smartphone used to cost between RM2200 to RM2500 several years back, but today it's an upwards of RM2800. Specs of mid-range phones today match that of flagships of the past, meaning you're getting a lot more bang (or swipe) for your buck than you were before.
For example, I used to have a Nexus 6P, Google's flagship Android phone, but as that died off, I settled on a mid-ranged Nokia 7 plus at only RM1699 instead. That phone has held up solidly for the past half-year with its amazing battery life and power that's enough for my daily needs. You yourself may not need to buy the latest and greatest either, which leads me to my next point …
Under-utilizing your smartphone
Most flagship smartphones today are state-of-the-art tech. They come with a bevy of sensors and processors that operate at capacities close to a full-blow desktop computer or laptop. There are other features like retina scanning, facial recognition, fingerprints under the displays, hot-swappable parts – the list goes on. Yet most people buy the latest iPhone (or any other smartphone) just to browse social media!
I've noticed among my peers that a lot of them are buying the latest and greatest flagship smartphones out there, but they use it for the very same features a mid-range phone would very much excel in: social-media, YouTube, e-commerce, online banking, camera. Even if you're getting in on the rage of mobile gaming with PUBG Mobile or Fortnite, there are a lot of sub-RM2000 phones out there that can power through it rather well, like the Huawei Honor Play at around RM1200.
In a nutshell, ask yourself if you should really drop a ton of money on an iPhone XS (or any other smartphone that's close to that price).
Is it worth it?
What does it do that other affordable smartphones cannot do?
Can you pay it off in one go or is it going to be by installments?
If you must buy an expensive smartphone and you're paying it off in installments, do make sure you pay it off responsibly and on time to avoid the debt from piling up and to build yourself as a credible paymaster. Are you interested in buying the iPhone XS, XS Max, or XR? Share in the comments!
Disclaimer: The opinions stated in the post are of the author's and does not represent CompareHero.my's notion on the latest Apple iPhones..