Celebrating Chinese New Year (CNY) during the COVID-19 pandemic and MCO will be a new experience for many Malaysians. Here's how you can enjoy the festive season safely in the new normal without overspending.
---
This Chinese New Year will be different from past celebrations, as the COVID-19 pandemic casts a shadow over the festivities. Even though we might be staying indoors, we can still usher in the Year of the Ox with family and friends – thanks to the wonders of technology. Some of us will not be going back to our hometowns this festive season, but our loved ones are just a video call away.
So enjoying Chinese New Year in the new norm will take some getting used to. However, there are budget-friendly ways to enliven your celebrations. Check 'em out!
1. Order a reunion dinner set online (delivery/self pick-up)
It's so convenient to order Chinese New year lunch/dinner sets online. To minimise social contact in the new normal, you can either have the meals delivered to your home or you can pick them up yourself.
Many restaurants are currently offering a variety of festive lunch/dinner bundles at different price ranges, so you'll be spoilt for choice when it comes to selecting delectable feasts for your reunion dinner, CNY day one, day two and so on.
Besides minimising the risk of COVID-19 infection by celebrating the festive season at home, you'll also be avoiding the pre-pandemic hassle of finding parking space in a crowded mall, as well as paying for parking tickets and petrol.
Of course, if your family members are staying outstation, you'll be sure to miss them. So do give them a video call. Show them the festive meals that you'll be having. Better yet, you can also order a similar meal bundle for them! Nothing says "I love you, Mom, Dad, Grandpa, Grandma, Sis and Bro" like a thoughtful CNY meal that you handpicked specially for your loved ones.
Your estimated expenses:
Related: Where To Shop For CNY Goodies On A Budget
2. Get affordable CNY face masks

As the pandemic continues, manufacturers have come up with different designs and colours for face masks.
In the new norm, your face mask can become a fashion accessory as well. As the pandemic continues, manufacturers have come up with different designs and colours for face masks. Now, as we usher in the Year of the Ox, there are also CNY and ox-inspired facial masks in the market.
A quick search on online shopping platforms like Lazada and Shopee will reveal dozens of festive masks for the Lunar New Year. Their designs range from quirky and cute to classy and elegant.
These masks are apparently popular, with some distributors having sold more than 1,000 packs online. Pricewise, a 50-piece pack of these disposable three-ply (three-layer) festive masks costs between RM10 and RM30 on Shopee. They are cheaper than the regular Medex Face Masks (RM35 for a 50-piece pack) that are sold at pharmacies like Guardian.
However, you should also check with online mask retailers to make sure that the masks you'll be receiving are quality products. In addition to looking trendy this festive season, you should also stay protected during the pandemic.
Your estimated expenses:
| | |
| --- | --- |
| CNY face masks | Prices |
| Medical grade Chinese New Year masks (Skin Hygiene) | RM9.88 (50 pcs) |
| CNY disposable 3ply masks (Pissardo Gallery) | RM11.88 - RM12.88 (50 pcs) |
| Limited edition God of Prosperity CNY face masks (Iconic Medicare) | RM35 (50 pcs) |
Get the best out of your online shopping experience with Maybank Shopee Credit Card!

Click here to apply for Maybank Shopee Credit Card

3. Spruce up your home with festive DIY decor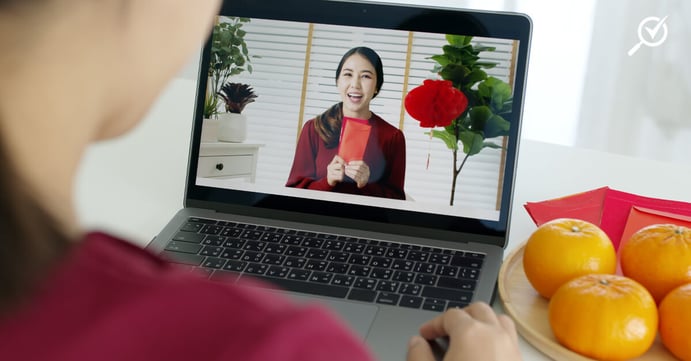 With festive home decorations, you can create a CNY-inspired look and feel for your virtual gatherings.
Despite staying indoors, you can still create a festive look and feel for your home. Decorate your place with acrylic wallpaper, spring blossoms, ornaments and other festive elements that strike your fancy.
You can purchase these decorations via online shopping platforms. Log on to sites such as Shopee or Lazada and you'll find a plethora of CNY decorations that cater to every taste. You could also order in bulk to enjoy free shipping.
Once again, as you're not travelling or shopping at many brick-and-mortar stores during this festive season, you'll be able to save on petrol and parking. However, not visiting your loved ones in person can be a bummer as well. You can make up for the social distancing by organising memorable, festive video calls with your family and friends. Be sure to share your surroundings and backdrop with your loved ones. Let them bask in the joyful CNY ambience as well!
Your estimated expenses:
Related: Ultimate Guide To E-Wallet In Malaysia 2021 – Which Should You Get?
4. Share CNY cookies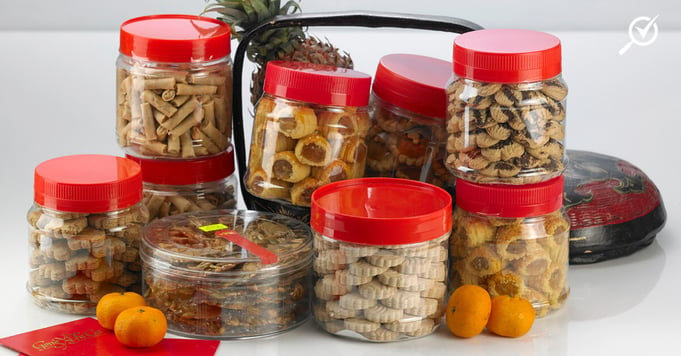 Many bakeries are offering home deliveries, so you can order your favourite pineapple tarts and kuih kapit.
In the new normal, there's one Chinese New Year tradition that hasn't changed. Festive cookies are still easily available! If you're looking for the best bakeries, just search online or ask around. (We're sure your family and friends have their own recommendations.)
Many bakeries are also offering home deliveries, so you can order your favourite pineapple tarts and kuih kapit. Having cookies delivered to your doorstep means you'll never have to brave through traffic congestions and crowds to buy these goodies ever again. The time saved from going out is priceless.
As these bakeries also offer free delivery for purchases above RM100/RM150, you can also show your loved ones that you're thinking of them this festive season by ordering some scrumptious cookies for them. Remember to save some of these mouthwatering delights for yourself.
Your estimated expenses:
5. With e-ang pows, you can save time and reduce paper usage
Near or far, no matter where your loved ones are, you can still send them ang pows (or receive red packets from them). However, instead of giving out physical ang pows this time around, the funds will be transferred via online banking.
To make money transfers more convenient, you can also use DuitNow, an inter-bank money transfer service that enables you to transfer to your recipient's DuitNow ID. This service is available on many online banking sites and mobile banking apps.
Setting up your DuitNow ID is simple:
Log on to your bank's online banking website or mobile app.
Look for DuitNow under the 'Funds Transfer' or 'Send Money' menu.
Perform a one-time registration by linking your IDs (e.g. mobile no., IC) with your bank account.
Your family and friends can also set up their own DuitNow ID. So if you wish to send them money, just enter their DuitNow ID and confirm the transfer details.
Not holding physical red packets this CNY might be jarring at first, but you'll soon feel the relief of not being weighed down by a bulging pocket or heavy handbag. It's so convenient that we're now living in a "cashless" society and you no longer have to keep track of your physical banknotes.
As you'll be spending less time sorting our physical ang pows, you can use the hours saved to enjoy more quality time with your loved ones. This form of digital ang pow also reduces paper usage, thus benefiting our forests and the environment.
Estimated ang pow rates: How much should you give your family and friends if you're married?
| | |
| --- | --- |
| Relationship | Prices |
| Your parents and in-laws | RM100 and above |
| Siblings | RM50 and above |
| Own children | RM50 and above |
| Cousins, nieces, nephews | RM10 - RM30 |
| Children of friends | RM5 - RM10 |
Note: Please do not go over budget when you're preparing ang pows. Remember to give within your means. After all, it's the thought that counts.
Related: Chinese New Year Ang Pow – What does it mean?
6. Clear your debts before CNY
In addition to spending within your means this festive season, many Chinese also believe in starting the Chinese New Year on an auspicious note. Thus, most of us will strive to do right by ourselves before CNY by breaking a bad habit, or by clearing a debt.
The burden of unpaid debt can be stressful, especially last year, when many people endured pay cuts and job uncertainties – leaving them unable to fulfil their financial commitments. So if you have been struggling to pay off your credit card debt, home loan, car loan or student loan, there's an effective way to get out of debt. It's called a debt consolidation loan.
Established with the sole purpose to help borrowers get out of debt, a debt consolidation loan enables you to combine all your debts into one loan at a single interest rate.
For example, you have three credit cards with an interest rate of 15%, and each card has an outstanding of RM5,000. To add to that, you're also servicing a personal loan worth RM50,000 at an interest rate of 7%.
With a debt consolidation loan, you can simplify all these by combining your debts into one. Besides being much easier to manage, you'll also be able to save money in the long run if prior your debts have higher interest rates.
Interested in finding out more? You can compare Malaysia's best debt consolidation loans in 2021 and calculate which one would suit your repayment ability here.
Related: 7 Strategies To Get Out Of Debt Fast During The COVID-19 Pandemic
So thanks to technological advancements, we have found new methods to keep the CNY spirit alive. May this festive season bring you happiness and prosperity. Have a wonderful time with your loved ones.