Sanitizers have been a part of our way of life since last year, and they've played a crucial part in keeping ourselves germ-free during this pandemic. And while the most popular type of sanitizer is the one that we use on our hands, there are also sanitizers for other objects and surfaces ?? . They come in various forms as well: gels, sprays, mists, you name it.
However, you need to exercise caution when using some types of sanitizers. Recently, the Director General of Health said that nano mist sanitizer sprays should be used carefully, as they can be unsafe. We'll cover more on this below.
Nano mist sprays shouldn't be directly used on humans
Like we said earlier, there are lots of different types of sanitizers. Spray sanitizers are convenient and are easy to use. But bear in mind that these sanitizers are usually used to clean surfaces such as tables, phones, computers...you get the idea. So, it's very important to know that there's a difference between a hand sanitizer and a disinfectant to clean surfaces. While they both are sanitizers, they're meant to be used for different things.
Now coming back to what the Director General of Health said regarding nano mist sprays, he's warned that spraying it directly on human beings can have negative effects on the human body. He also said that these sprays are not as effective as they're thought to be (more in this below).
But basically, the next time you're about to enter a premise, if you're about to get sprayed from head to toe with a spray gun, politely let them know that you'll use a hand sanitizer instead.
Not all sanitizers are approved by KKM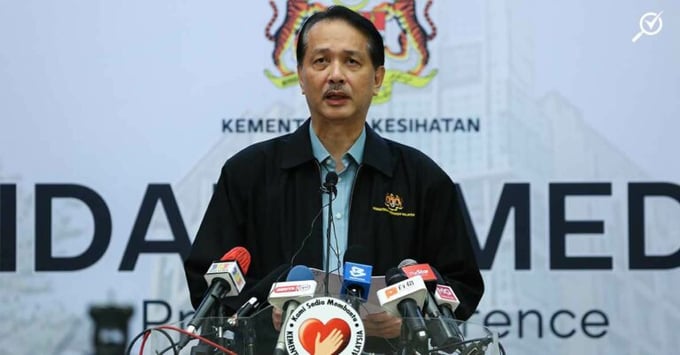 You would already know that any health or beauty product has to get the approval of the Ministry of Health, popularly known as KKM. Since Covid-19 came about, many brands have come up with products people would typically use during this time, sanitizers being one of them.
If you go to a shop and you see a bottle of sanitizer that promises to get rid of "99.9% of germs" for a relatively low price, you're probably just going to get some without a second thought.
But do note that sanitizers that haven't received KKM's seal of approval either don't really do the job, or they contain some harmful substance. KKM publicly shares information on sanitizers or other products that are sold without their knowledge, or you can also double-check if your brand of sanitizer is legit at the National Pharmaceutical Regulatory Agency (NPRA).
Bonus tip: If you ever have an adverse reaction from using a sanitizer, you can report this to NPRA at aduankos@npra.gov.my.
Wash your hands instead if you can
Sanitizers are great, but the most effective way to stay clean is to just wash your hands with good ol' soap. Unless you don't have access to water and your hand isn't visibly dirty, sanitizers make a nice quick fix to keep your hands clean.
In trying to stay safe during this time, many people have also bought oximeters to check their oxygen levels. Oximeters must also be approved by KKM, as fake ones are dangerous. Read all about it below: