If you are more careful on your credit card usage, you can actually save more money and at the same time, earn more benefits. In this article, we list some credit cards that can give you that opportunity. Read here to find out how it works.
---
Ever had someone tell you to only pay in cash? That apparently using cash is wiser, safer, and better in every way?
Now, we know that credit cards do get a bad reputation, and for good reasons too. While it's true that credit card debt is a real issue, the card itself is not the cause - it's poor financial management!
Back to our original question - credit cards actually do so much more than give you access to acquire what you want or need before you actually have the money to pay it off. Credit cards actually reward you for spending, so to this we say: if you're already spending, might as well get rewarded for it.
Here are some ways using a credit card can actually be incredibly good for your money:
1. You can get a signup gift when you get a new credit card
Banks and comparison sites like CompareHero are always running promotions to encourage new users to sign up for specific credit cards. You can always take advantage of this incentive and get a gift that you're interested in. Of course, do read the terms before signing up, as while some gifts are guaranteed, others may be given out à la lucky draw style. (E.g. each 40th successful applicant.)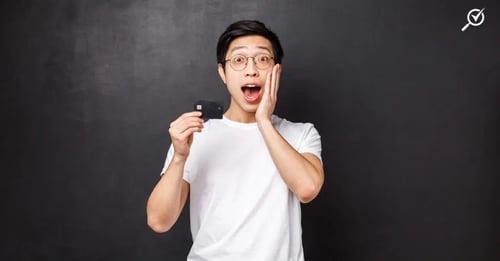 A rice cooker Uncle Roger would approve of. (Disclaimer: Promotion subject to change without notice.)
So if you're looking to furnish your new home with some essential appliances, wouldn't it be great if you scored yourself a new air fryer or vacuum machine just by applying for a new credit card?
On that note, check out our current credit card promotions here. (Our promotions change every month, so if you see something you like, grab it quickly!)
2. You can accumulate reward points as you spend
You would already know that credit card rewards exist. If not, how else would banks encourage you to take up credit cards in the first place?
Depending on the card that you have, you can easily accumulate points with each spend you make. At the end of your monthly cycle or year, you can always check your points to see how much you've accumulated, and choose to redeem something that you want or need. Our favourite? Shopping vouchers!
3. You can get actual cashback to your account
Unlike cards that give you reward points, there are cards that give you cash back when you spend. Of course, when you get cash back, you may or may not get reward points when you spend. (It depends on what your card offers.)
And just to note, cashbacks usually work where the user (you) make a purchase wherever, and at the end of the cycle, you pay your dues and get your cashback benefit (e.g. a total of, say, RM30 from that month) credited back into your account as a rebate.
But as beneficial as this sounds, take note that it's common for banks to impose a certain maximum to your cashback benefit.
Compare all cashback credit cards here.
4. You can get extra rewards from branded credit cards
What are branded credit cards? Quite simply, they're the product of a partnership between a credit card issuer (bank) and an external brand. While they work like a standard credit card, they have added benefits so you can save some money or get added rewards when you spend in their business.
Here are 3 branded credit cards that we think you'll love:
Maybank Grab Credit Card

Perfect if you're: A heavy Grab user who loves collecting points and redeeming them for Grab vouchers.
About this card:
Requires monthly salary of RM3,000 to qualify
No annual fee
Welcome gift of 1,000 GrabRewards Points (GRP) will be awarded upon activation
Welcome gift of 5 X RM5 GrabRide voucher and 5 X RM5 GrabFood voucher will be awarded upon a minimum cumulative spend of RM300 in the Grab application within 45 days from the date the card is approved
5 GrabRewards Points will be rewarded for every RM1 spent on Grab & GrabPay (including Grab e-wallet reloads)
2 GrabRewards Points will be rewarded for every RM1 spent overseas/cross border/e-commerce transaction
1 GrabRewards Point will be rewarded for every RM3 spent locally on eligible transactions
Grab Platinum Tier status for 6 months upon card activation

Apply for the Maybank Grab Credit Card here

Maybank Shopee Visa Platinum Credit Card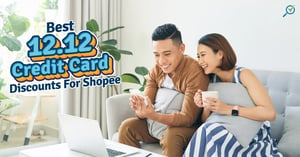 Perfect if you are: A seasoned online shopper, especially one who prefers to shop on Shopee
About this card:
Requires monthly salary of RM3,000 to qualify
No annual fee
5X Shopee Coins on Shopee, dining, entertainment & contactless payments
5X Shopee Coins on special days when spent on Shopee
1X Shopee Coins for other transactions
5,000 Welcome Shopee coins

Apply for the Maybank Shopee Visa Platinum Credit Card here

AEON Classic Mastercard Credit Card

Card benefits:
Requires monthly salary of RM2,000 to qualify
RM30 annual fee
2x Points per RM1 spent at AEON Stores, Max Valu, 1x Points per RM2 spent elsewhere.
2% cash rebate for purchases at any AEON stores during AEON MEMBER day
Earn extra 2.5X points for every Ringgit you spend with your New AEON Card inside AEON Stores during selected AEON MEMBER Privilege Day.
2.5x AEON MEMBER points = 1.5 AEON MEMBER point from credit card + 1 AEON MEMBER point from AEON MEMBER

Apply for the AEON Classic Mastercard credit card here

5. You can enjoy free insurance against personal accidents
Insurance is not cheap, but it is a necessity regardless of what you do or how old you are. Many credit card companies come with some sort of travel insurance, but we found that OCBC Bank has a Great Eastern credit card which gives:
Complimentary RM100,000 insurance coverage on death or total and permanent disability for principal cardmember (First Year)
12 months' Auto-IPP for Great Eastern / Overseas Assurance Corporation for insurance premium of RM2,200 and above via Auto Debit
Sure, the benefit is not forever but it can at least give you some added protection at no charge!

Apply for the OCBC Bank Great Eastern credit card here

6. You can avoid high interest fees with a balance transfer credit card
This one helps you if you have an existing credit card debt that you cannot control. If you didn't know, credit card interest rates in Malaysia start at 15% p.a., and can increase up to 18% p.a. if you consistently keep up bad repayment habits. (Higher interest rates act as a penalty to encourage borrowers to pay their dues on time.)
By getting a balance transfer credit card, you basically transfer your existing debt to a new credit card and avoid paying the already hefty interest rate. Here's an example:
Let's say you had an outstanding debt with Credit Card Bank A and Credit Card Bank B, and over the course of two years, it snowballed to a whopping RM20,000. Keep it for another month and it will continue to grow even more.
Bank C offers a balance transfer solution with a 0% interest rate, provided you clear your dues in 12 months. As such, Bank C absorbs all your existing debt of RM20,000 - all of which will not grow unless you fail to repay. For the next 12 months, you will have to pay RM1,667 in Bank C to clear off your debt.
If you had kept your debt in Banks A and B, you would definitely have to pay MORE than that as you would need to add on the compounding monthly interests. In that sense, a balance transfer credit card can help you save hundreds of Ringgit from interest fees!
Interested? View all balance transfer credit cards here.
All this is nothing if you don't pay off your balance in full
A lot of people think that all would be well if they only pay the monthly minimum requirement. Yes, you will avoid late fees, but you will be charged a monthly interest. If this is not nipped in the bud, your monthly owing will grow and eventually leave you with an uncontrollable debt.
There is no reward big enough to justify being in debt, so always make it a priority to pay off your monthly owing in full so you're always in control of your rewards and finances.
Curious to see more? Compare all credit cards here.