Updated: 22 February 2017
With Chinese New Year ahead of us and New Year's Eve already behind us, it is urgent time to have a closer look at what the upcoming year will offer us. What are the drivers of growth? What will happen to the Ringgit? How will oil prices develop? And most importantly: What are practical money tips for you in this environment?
Drivers of Growth
According to research by Standard Chartered Bank, one of the main drivers of economic growth in Malaysia is the buying power of Malaysian citizens. Throughout 2017, this growth is expected to slow down a bit, which is also supported by research from the World Bank. The reason for this assumption is the diminishing effect of last years' minimum wage hike. Additionally, the predictions for the labour market are cautious as the unemployment rate is steadily rising and employment growth is declining.
Besides these developments, government spending is forecasted to stay stable. According to Anthony Dass, Chief Economist at the AmBank Group, who gave insights into AmBank's research at an event hosted by the Swiss Malaysian Business Association (SMBA), investments of about RM150bn are expected in the construction and infrastructure sector.
If you are interested in the government's budget take a look here for a general article and here for expert comments and evaluation. Much of this spending in the past has resulted in the relatively high quality of infrastructure in the country, as compared with other middle-income countries like Chile, China, Thailand and Mexico. Additionally, Malaysia's logistics are operating successfully in comparison to other countries of the ASEAN region, but the other countries are catching up.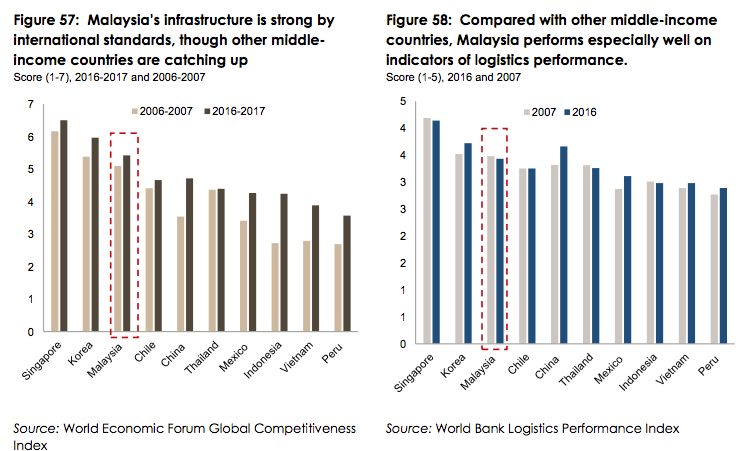 With regard to Malaysia's GDP, although it has slowed down since 2015, the World Bank analysed that, a relatively steady increase is expected to continue for the next few years.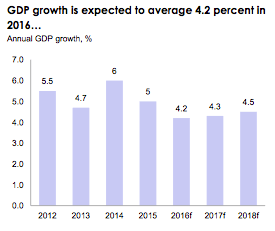 Source: World Bank
What is going to happen to the Ringgit this year
Unfortunately, the low Ringgit exchange rate is expected to stay with us for this year, which is also supported by research of Anthony Dass and his team. It is expected that most monetary impulses will come from the United States of America as it is expected that the US policy rate will increase throughout this year. AmBank Research is estimating 2 rate hikes by the US Central Bank with a probability of 80%.
Additionally, 'Trumponomics' is expected to influence currency rates worldwide. Therefore, you should try not to spend too much of your money overseas as you will be losing out. Instead, if you want to go for a vacation, try to go local. We have already put together a list of budget getaways, which we researched for you here and here.
With regards to inflation, Bank Negara Malaysia will lower its policy rate marginally. Basically, this would mean that banks would be able to borrow money from the central bank at a cheaper rate. On the one hand, this could mean, that interest rates for loans could become slightly cheaper. One the other hand, it could also mean that prices for products will increase, as there is more money in the whole market. However, we should not expect large effects out of that adjustment.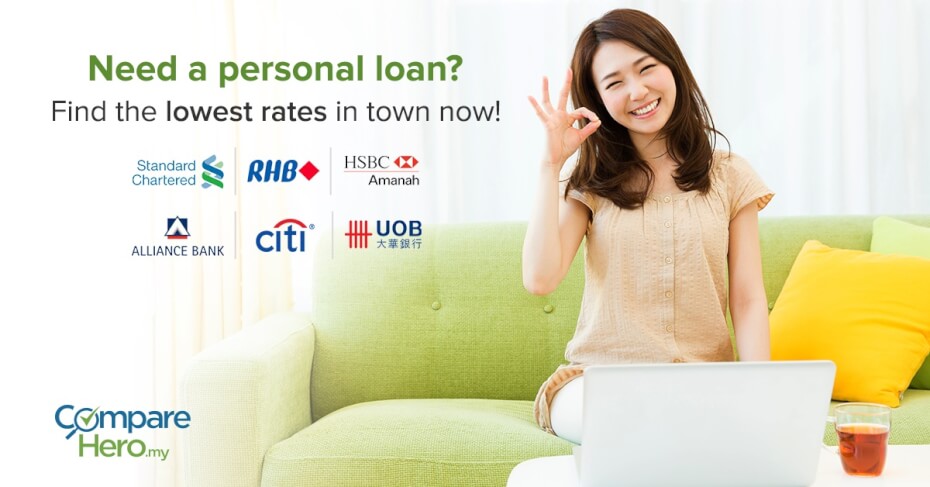 Oil prices
During the recent months, the oil prices experienced a hike in prices again, which was mainly due to an agreement of the OPEC to lower the oil production so that the oil supply decreases. It is expected, that this increase in prices will continue in 2017.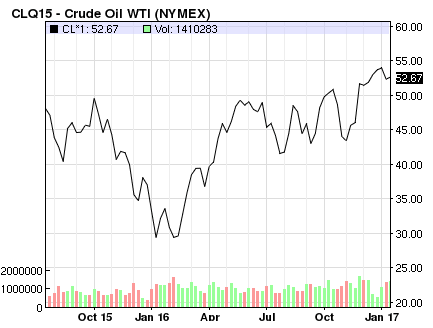 Source: Nasdaq.com
However, the government had started to lower its reliance on the oil and gas sector to feed the country's revenue. According to Prime Minister Datuk Seri Najib Tun Razak, the oil and gas related to state revenue decreased from 41.3% in 2009 to 14.6% in 2016. With regard to Malaysia, this means that the oil and gas sector will be able to generate higher revenues through higher prices. The outlook on oil is positive, indicating that there might come positive influences from this part of the Malaysian economy.
Sustainable Growth
In order to achieve sustainable growth in Malaysia, the World Bank suggests, that productivity needs to increase. Between 1990 and 2014, Malaysia experienced a period of solid growth because of high rates of investment in infrastructure and private sector development. However, due to lower oil prices, the growth was constrained. Additionally, even though, Malaysia's demographic transition is at an earlier stage than other ASEAN countries, attention should be paid to the fact that the growth of labour will be constrained over the long term. The demographic transition means that the average age of Malaysia's citizens is about to increase throughout the upcoming years. According to the World Bank, an increasing average age leads to a decrease in growth, as there are fewer people who are able to work. Therefore, measures should be put in place now to ensure future growth. One possibility of how to do so would be increasing the efficiency of a single worker so that the decreasing number of workers can be compensated. According to the World Bank's report, the government has already taken measures by incorporating different productivity targets.
Key Take-Aways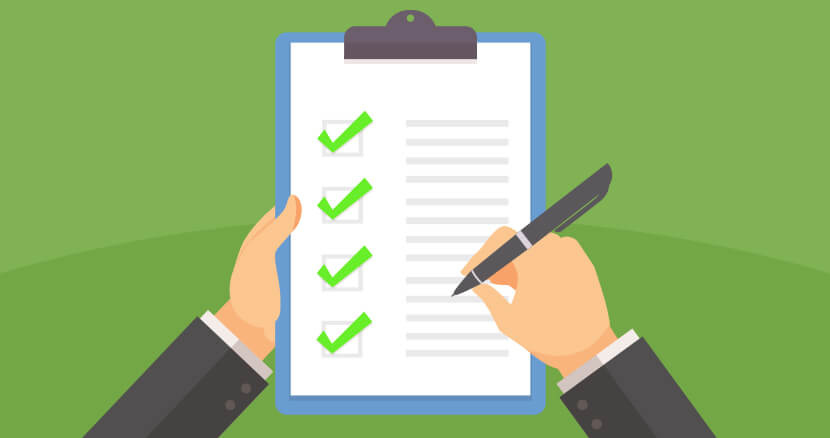 As the Ringgit is expected to remain low throughout the year consider holidays in Malaysia.
If you are selling products or services, try to sell them in a different currency. This could be for example USD as the Dollar is stable and strong at the moment.
Reconsider sending your kids abroad for education, as you would need to pay their tuition fees in the countries local currency, which might be a bad deal for you.
Try to save some money, or seek an additional source of income, so that you are able to overcome any upcoming struggles that might occur with a further decrease of employment.
Did You Know? With regard to politics, the next general election shall be held latest by August 2018. However, the World Bank and Standard Chartered Bank mentioned that there are speculations of early elections taking place already in 2017.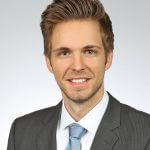 About the writer
Dennis is a Guest Writer at CompareHero.my. He is curious about trying new things, enjoys to discover the world and is interested in financial topics.
CompareHero.my strives to empower Malaysians with financial literacy and the tools to make better financial decisions in life. Find and compare the best credit cards, personal loans and broadband plans on CompareHero.my today.
Save
Save