The new MAE mobile app provides an ecosystem for Malaysians to better manage their everyday money matters.
One of the biggest challenges we face when it comes down to money management is finding one platform that helps you navigate through all your financial needs.
But the newly launched MAE by Maybank2u app could be the big game changer.
With its new features, users get to take charge of their own financial health by having all their financial needs parked under one platform to get a single, holistic view of everything spent across accounts, cards, and QR transactions.
Speaking at the virtual launch, Maybank Group President and CEO Datuk Abdul Farid Alias said the bank expects to attract three million users to its newly-launched MAE by Maybank2u app in 12 months' time. Judging by the numbers, it's definitely possible. So far, it has a total of 10 million registered users on Maybank2u, while its MAE e-wallet has 1.8 million users.
The long-term goal, Abdul Farid said, is for all 10 million Maybank2u users to migrate to the new MAE by Maybank2u app, with an additional two million new users to come on board.
Related: Maybank – First Bank To Introduce Online Appointment Management System, EzyQ
But what is the MAE by Maybank2u app and why is it so great?
At first glance, you'll notice that the name of this new app is a combination of two things: the Maybank MAE e-wallet and the online banking Maybank2u app. So, is it a combination of their online banking and e-wallet platforms? Pretty much.
The new app essentially marries the two comprehensive apps into one all-encompassing app, which from a customer's perspective is great because that means you can conduct all banking transactions in one platform.
What are some of the features in the MAE by Maybank2u app?
The new app includes features such as expense tracking (called Expense), individual and group goal-based saving (called Tabung) and dining recommendations (called Makan Mana).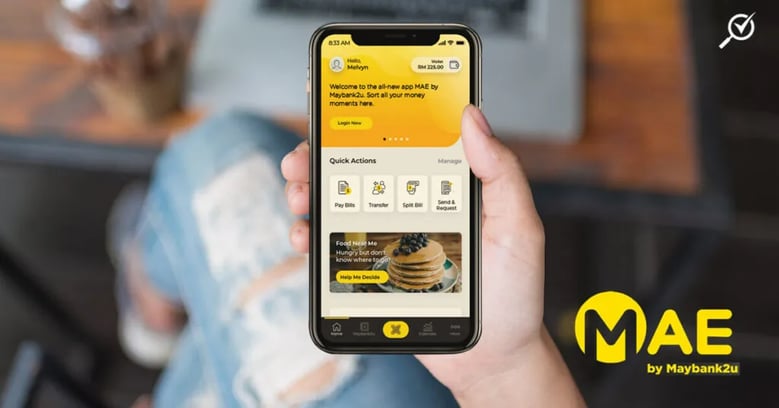 Banking features on Maybank2u can be used alongside MAE (Maybank's ewallet) features in this new app
Other basic transactions that were available on Maybank2u such as bill payments and fund transfers can also be accessed through the new app for existing Maybank customers.

The process of saving money could be easier if done with loved ones
The group saving feature, according to Maybank, is the first of its kind by a Malaysian bank, allowing customers to jointly save with friends or loved ones towards a goal such as an annual vacation. In a sense, the app also allows you to hold loved ones more accountable, financially, for that much desired vacay in Bali, for example.
If you're the type that needs a little push when it comes to savings, then this app could be great for you. Instead of saving alone, now you get to save up with family and friends, and hold each other accountable on your financial journey.

Perhaps with this new app, deciding where to eat won't be much of a problem anymore
Let's face it, deciding where to eat has always, and might continue to be, a common problem that all of us face. But the new MAE by Maybank2u app aims to put this dilemma away with their new Makan Mana feature.
And if having a set variety of options isn't enough for you, then spin the Makan Mana Wheel and it will decide fate for you! This dining recommendation feature aims to help Maybank customers find out the best dining options while enjoying promotions from thousands of its partner merchants all across the country.
And finally, to help accelerate the saving process, the new Maybank app is also equipped with new complementary features called Boosters which allows micro-spending "moments" to be transformed into savings.
Here's a quick summary of what each of these boosters are:
Spare Change - Rounds up expenses and transfers the balance into Tabung
Scan & Save - Credits savings earned from promotions used during QR transactions
Guilty Pleasure - Allows daily spending limit in any category of your choice and an amount to be credited into your savings if the limit is exceeded.
It doesn't end there! The app also comes with a new MAE Visa Debit card
Now, you get to spend and reward yourself with the all-new MAE Visa Debit card, created with the goal to complement the MAE wallet.
This yellow card is packed with loads of benefits, including competitive foreign exchange rates and exclusive perks that can be enjoyed locally and abroad. Customers can apply for the debit card via the MAE app and it will be delivered directly to their doorsteps.
If you're traveling - of course, when it's safe to do so again - the amount in the MAE wallet will auto convert to the country where the customer is in, which will help customers know exactly how much is available for spending. That makes tracking your expenses so much more easier and efficient.
Related: Maybank Launches Digital SME Financing Platform With 10-minute Approval Time
All in all, this new Maybank app is pretty cool and comprehensive, and we recommend you check it out. The app, said Maybank President and CEO Datuk Abdul Farid Alias, was created with one important goal in mind: to simplify their customers' lives and answer their problem statements.
"Our ambition is for MAE by Maybank2u app to be our customers' trusted companion that improves the ways they spend and save while delivering a revolutionary user experience that we hope will delight them," he said.
"We want to turn their dealing with money, which can be stressful, into convenient and pleasant experiences. Ultimately, we hope it will help them achieve their goals and dreams, and enable them to make sound financial decisions," he added.
I'm sold, so how do I get this app?
The MAE by Maybank2u app is available for download from Google Play Store and Apple AppStore. Or you can download it straight via a QR Code on Maybank's website.
Existing Maybank customers are only required to undergo a simple security set-up, after which they can start using the app immediately and seamlessly, with the data from all their Maybank accounts automatically made available in the new app.
Non-Maybank customers are able to conveniently open a MAE wallet via the app and complete the application without having to visit a branch. Once the application is successful, users may start using the app, and have access to all the banking features and money tools within.