If you're getting bored (or alone) at home and in need of a cute and furry companion to play with, adopting a cat is never a bad idea. Besides being able to see them in their mischievous actions, one of the best things about having a feline friend is that they can help you to relieve stress.
Did you know that their power of purr is known to be scientifically therapeutic for humans? Isn't that pawsome?! And a study conducted by Indiana University revealed that watching cat videos on the internet can improve one's mood, emotion and positive energy.
Forget about watching videos, how about owning one for yourself? It is no doubt that cat ownership has a number of benefits - which are mostly positive, but it's a lifetime commitment that costs you quite a lot of moolah too.
But don't worry, we've got you covered! If you're ready for such commitment, we help list down all the possible estimated costs (based on our survey and quick research) of having a furry friend to give you an idea of how much you have to prepare financially.
Related: Top Lazada And Shopee Tips And Tricks Every Online Shopper Must Know!
1. Adoption fee
If you're planning to adopt a cat from a shelter, you would have to weigh in the adoption fee. The fees may differ by shelter and the age of the cat you're adopting, but you can expect the fees to range from RM50. Some shelters may have already spayed or neutered and vaccinated the cats, which helps reduce your initial expenses.
Getting a cat from a breeder is usually more expensive than adopting - it can cost up to thousands of Ringgit. We highly recommend you adopt instead of buying. There are many wonderful kittens and cats that need loving homes at the shelter.
Where to adopt?
You can view the cats that are up for adoption on SPCA Selangor and Petfinder Malaysia.
2. Cat litter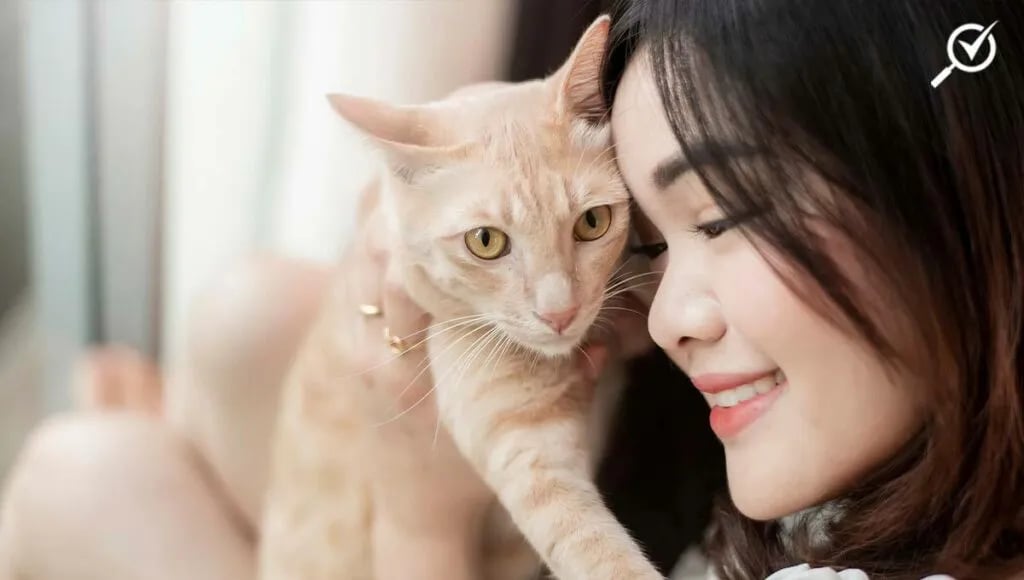 Cats can be fussy about their bathroom habits, you don't want to deal with a regular mess at home if their bathroom is not taken care of properly.
a) Litter box
Now that you have your furry little one, you need to get a litter tray to train their toileting habits. As a cat owner, you need to give your cat a suitable litter box with the right shape and size, and place it at the most comfortable spot, or else it could lead your cat to urinate outside of the box. Cats can be fussy about their bathroom habits, you don't want to deal with a regular mess at home if their bathroom is not taken care of properly.
The price of a cat litter box in Malaysia may vary depending on the size, function and feature. Based on our search on Shopee, you can get a manual cleaning litter box from RM10 up to RM200b, as for an automatic cat litter box, it can cost you up to RM1,600 or probably higher. Since this will be your one-time investment, it's recommended that you get a high-quality litter box that is purrfect for your cat to use.
b) Litter type
There are different types of litter available such as clay clumping, clay non-clumping, crystals and corn, wheat and pine. The price for each type varies but you can find it as cheap as RM12.
You should replace the litter regularly depending on the circumstances. If you clean the litter box daily, you might only need to change the litter every 2-3 weeks.
3. Carrier

Having a carrier makes travelling with your cat more convenient.
Carriers ensure that you have a safe car ride so that your cat does not roam around freely in the car while you're driving. Cats get frightened easily, especially when they're in an environment they're not familiar with.
The cheapest cat carrier you can get from Shopee is priced RM17. Like litter boxes, there are many options of cat carriers you can choose from and the prices may differ depending on the design and size.
4. Collar tag

A collar tag with contact details will be helpful for anyone to bring your lost cat home.
While this can be optional, a proper collar tag with contact details can make the world a safer place for your cat. In case your cat wandered too far from your house and got lost, the collar tag serves as an identification for someone to refer to and bring them home safely.
You can get a collar tag as low as RM9 from Shopee.
5. Scratching post
Providing a good scratching post can save your furniture, couch or carpet from getting damaged. Cats must release their urge to scratch and their claws continue to grow throughout their lives and need regular attention. A scratching post serves the purpose just for that - it's a form of exercise to maintain your cat's well-being.
The lowest price for a cat scratching post available on Shopee is RM10. If you want your cat to have a fancier and more glamorous space to do their scratching, you can get a cat scratcher tower for RM100.
Want to earn more cashback when buying your cat necessities? Find out the best cashback credit card here.
6. Cat toys

Get your cats entertained with the best toys for them to play with.
You'll be able to learn more about your cat's personality by playing with them, and this is one of the ways to create a close bond with your cat. Cats need to play to help them from getting bored, so it is important that you provide appropriate tools for them to play with.
There are many types of cat toys you can find on Shopee that range from RM2 to RM200.
Pro tip: If you want to cut this cost, you can be creative by DIY-ing cat toys on your own. Check out some ideas for FREE here.
7. Feeding bowl
Cats tend to move their bowls while they're eating, so if you can get an elevated bowl that fixed in one position, it will help them eat comfortably. You can get one from Shopee for only RM14. There's also an automatic feeder bowl costs RM50 where you don't have to refill the food manually.
8. Spay or neuter
Besides increasing your cat's lifespan, spaying can also prevent unwanted litters and overpopulation. There are also other health benefits of spaying or neutering your cats, read more about it here.
The cost of spaying may differ for government and private vet, but the range is expected to be around RM100 - RM300. And take note that the cost can be higher than that if you've never vaccinated your cat before.
For low-cost vaccination, you can contact and make an appointment with SPCA.
9. Cat food
The cost of cat food depends on the type, quality and amount of food your cat has to eat. You can find different brands available in the market, ranging from cheap to premium quality. Cat food is commonly divided into two types which are dry food (also known as kibble) and wet food.
a) Dry food
The cheapest dry food you can find costs around RM15 (1.2kg) to RM50 (10kg), while the premium one could go up to RM150 (less than 2kg).
b) Wet food
For wet food, the cheapest price is RM3 per pack and the premium one costs RM10 per pack. The price may differ depending on the brand and size.
How much food your cat should eat each day can be determined by identifying your cat's age and ideal weight. You can get help from a veterinarian and seek their advice on the number of calories your cat should take.
10. Vet check-ups
Kittens need to see the vet a lot more often than adult cats, but an adult cat typically needs regular healthcare attention at least once a year. It's important to send them for a check-up, dental cleanings and vaccinations so that they can grow properly and get their vaccinations on schedule.
A vet check-up may cost around RM150 per visit. The price varies by your cat's condition and by veterinarian.
11. Grooming
Sending your cat for light grooming may cost you RM30 per session, which typically includes bath, scissoring, nails and flea medication. Cats with longer fur have to be professionally groomed once every 4-6 weeks, while shorter-haired ones can have a grooming session every 8-12 weeks.
Besides that, you will also need to do maintenance on your own such as having the cat shampoo, comb and other equipment that match your cat's coat type.
Here's a total estimated cost of owning your first cat
Now let's roughly include all of the prices we stated above and calculate how much you will have to spend on your cat:
| | |
| --- | --- |
| Adoption fee | RM50 |
| Cat litter | RM100 |
| Carrier | RM17 |
| Collar tag | RM9 |
| Scratching post | RM30 |
| Cat toys | RM15 |
| Feeding bowl | RM30 |
| Spay or neuter | RM100 |
| Cat food | RM50 |
| Vet check-up | RM150 |
| Grooming | RM30 |
| Total | RM561 |
The above are just estimated costs of owning a cat in Malaysia. The cost could be higher depending on how you want to take care of your little feline friend. It's best that you know what you will have to spend on when getting a cat for the first time. Be reminded that as your cat grows, there could be more expenses you'll have to add on.