All set to get your money's worth in every purchase you get this year? You can start out by getting a credit card that will give you cashback, discounts, rewards and much more!
We previously covered the best credit cards for shopping in 2022, as well as the top cashback credit cards in Malaysia this year. In this piece, we'll take you through the list of credit cards that will give you great rewards, both online and offline, for each swipe you make.
1. CIMB e Credit Card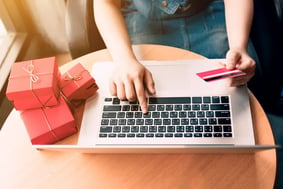 If you'd like to start off simple, this card would be a great option as the minimum monthly requirement is RM2,000.
Shop at selected stores on eDay (which is the 10th of every month) and you will get 12x Bonus Points. You can enjoy eDay deals on Shopee & Lazada and at Taobao, The Body Shop, Watson, Sasa, Zalora, The Coffee Bean, Alpro, Revo, HappyFresh, GoShop, Traveloka, Poptron, Biji-biji, Setel, Mr. DIY, and more.
In short, here are the rewards that await you with the CIMB e Credit Card:
12x Bonus Points on the 10th of each month with featured shopping partners
10x Bonus Points on online shopping & e-wallet spend on the 10th of each month
5x Bonus Points on online shopping, e-wallet and auto-billing payments on other days
1x Bonus Points on in-store PIN purchase and other transactions every day
Tap here for more information on the CIMB e Credit Card.
2. Standard Chartered Visa Platinum Card
If you shop online frequently, enjoy travelling and dining, you just might like this card. You get
5X points for dining, and shopping at department stores as well as any overseas spend.
You'll also have purchase protection when shopping online, so you can go ahead and add items to your cart without a worry. Your Standard Chartered Visa Platinum Card will also give you all of these:
10x 360⁰ Rewards when you shop on Lazada, Shopee, Taobao, ZALORA, Boost, Grab and Fave
10x 360⁰ Rewards when you shop for groceries
5,000 Bonus Points every month with RM1,500 min. retail spend
Want to know more? Just click here.
3. Lazada Citi Platinum Card

Similar to the CIMB e Credit Card, the Lazada Citi Platinum Card is great to start off with as it has a minimum salary requirement of RM2,000/month. With this card, you'll be rewarded with free shipping vouchers via the Lazada app, RM28 off purchases every Monday and 20% cashback on your Lazada Wallet top up.
The annual fees for the card will be waived for the first 3 years, and you'll also be able to enjoy these benefits?
10X Citi Rewards Points for Lazada spend
1,000 bonus Citi Rewards Points with min. RM1,500 monthly spend
offset Lazada spend via Citi Rewards Points
You can find out more about the Lazada Citi Platinum Card here.
4. Alliance Bank Platinum Visa

Another card that's suitable for those who love to travel and shop is the Alliance Bank Platinum Visa. With every spend, you'll get Timeless Bonus Points (TBP) which can go up to 8X for selected merchants.
What's better is that these points won't expire, so you can redeem them whenever you like!
Besides a 0% Balance Transfer rate and 20% Cashback on contactless spend, you'll also enjoy:
8X Timeless Bonus Points for online shopping
8X TBP for eWallet top-up
3X TBP for overseas transactions
Interested to apply? Click here!
5. HSBC Visa Signature

Those who earn RM6,000 a month or more can apply for this one, and as it's a higher-end card, it comes with more security. A Securepay One Time Password will be sent via SMS for each online purchase. Every one of your monthly statements will be sent to your email, so it can only be read by you.
And if you ever unfortunately lose your card, there's a Free 24 Hour loss reporting line you can call.
Besides getting 6X access to Plaza Premium Lounge KLIA, Singapore Changi Airport & Hong Kong International Airport, you'll get:
30% off redemption on online vouchers (Lazada, Uber, Agoda, AirAsia)
8X Rewards Points for overseas & online spend
5X Rewards Points for shopping at local malls
Find out more about the HSBC Visa Signature Card here.
Want to see more rewards credit cards like these? We've got lots more deals for you. Just tap on the link below!