Have you ever wondered what it means for you and your car if you're involved in a traffic accident and the insurer declares your car a total loss? Here's everything you need to know about total loss car accidents and the five important things you have to do when your car gets totalled. Read below to find out.
---
If you get into a major motor accident that causes severe damage to your car, there's a possibility that it could be considered "totalled," or in other words, unsalvageable. But how does one determine if their car is totalled?
Besides being completely unrepairable, a car is considered totalled when its repair costs exceed its original value. Unfortunately, such traumatic situations have happened - and though we hope you never have to go through it - it would be helpful to know what to do if your car gets totalled.
So here's a quick breakdown of what's considered a "total loss car" and what to do when your car gets totalled.
What does a total loss car mean?
According to insurance companies, a car is considered a total loss when the insured vehicle is damaged or destroyed to an extent that it cannot be repaired or recovered. In other words, the repair costs exceed the actual cash value of the vehicle. An actual value is an amount your insurer will pay after it's totalled in an accident.
For example, if the damage costs you RM20,000 while your car's value is worth RM15,000, then your insurer would declare your vehicle as a total loss.
Five things to do after a total loss car accident
Among the main issues, you have to face in the aftermath of a road accident is figuring out how to finance the damages and losses to your car. But if you have comprehensive car insurance coverage, you don't really have to worry about forking out a huge amount of money from your pocket. We've seen the news and pictures of cars being badly crushed in an accident - what if this happens to you?
By the way, if you are on the lookout for car insurance or would like to renew yours, apply through us now to stand a chance to win a Petronas gift card worth up to RM300.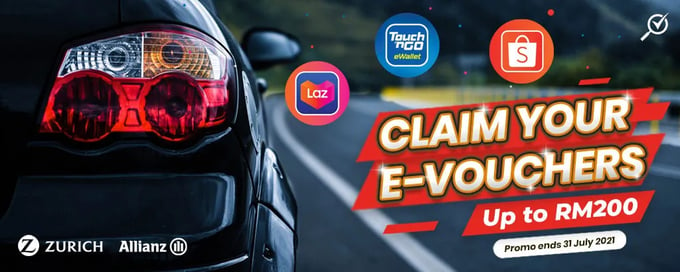 Click here to purchase or renew your car insurance and get eVouchers worth up to RM200 for FREE!

1. Report the accident to your insurance company
First things first, you need to immediately report the accident to your insurer. Filing for a car insurance claim can be a lengthy and tedious process as it usually takes some time for your insurer to sort out the claim approval. It also requires you to submit certain documents that you have to get from another party like the bank. The faster you file the report, the easier the next step will be.
Related: The Ultimate Guide On How To File An Auto Insurance Claim In Malaysia
2. Tow your car to the panel workshop for inspection
Tow to your insurance company's preferred workshop. The workshop will determine whether or not your car is repairable and how much it will cost.
If the workshop declares that your car cannot be repaired, your insurer will take note of the statement given by the workshop and send an offer letter to you stating that the vehicle is beyond economic repair, meaning the repair cost is estimated to be higher than the car's value.
Most car insurance companies have their own list of panel workshops that they work with directly and this can help make the entire claim process more convenient. You can contact your respective insurer if you need information on the panel workshop listing.
3. Prepare and submit the required documents to your insurer
Once the inspection at the workshop is complete, your insurance company will send a representative or adjuster to evaluate and assess your vehicle to confirm if your car can be declared a total loss. They will also guide and assist you with the documentation process accordingly. You need to prepare a checklist to make sure you won't miss out any important documents.
Below are the documents you need to submit:
Claim form
Police report
Copy of Vehicle Registration Card/VOC (Vehicle Ownership Certificate)
Copy of insured's and drivers identity card and driving license
Car grant
Original Takaful certificate
Road tax cancellation letter from Jabatan Kerja Raya (JKR) or Public Works Department
Redemption letter from the bank
Disclaimer
The documents required may differ from one insurer to another. Please get in touch with your car insurance company to get a detailed documentation process.
4. Find out how much your car is worth
Knowing the value of your car before the accident can give you an idea of how much the insurance company can cover for you. You can estimate the amount you still owe to the bank just in case the insurance payout is lower than your car loan balance.
Again, your insurer will not pay more than the amount you owe. If there's an excess or the amount is beyond the policy limit, you have to pay it on your own. However, you should keep in mind that there's really no clear-cut method to determine the value of your totalled vehicle.
You can find out your car's market value here.
5. Check your loan to see if you still owe money on your car
If you still owe some money on the car, you will need to get the loan details or payoff quote from the bank. A payoff quote is a remaining amount you would have to pay to satisfy your debt. Knowing how much you owe can actually help you prepare for the claim as you can estimate the amount you would still need to pay if there's any.
Does car insurance cover a totalled car?
It entirely depends on what is covered by your car insurance company and the policy you signed up for. If your policy includes coverage for total loss, your insurer will review how much you still owe and will send a payment directly to your lender for the actual cash value of the car minus any deductible. A car insurance deductible is the amount of money you will have to pay before your insurer pays the rest of the claim.
For example:
Auto loan balance: RM30,000
Car's market value: RM20,000
Deductible: RM2,000
Insurance payout: RM30,000 - RM20,000 - RM2,000 = RM18,000
Amount owed: RM30,000 - RM18,000 = RM12,000
The calculation above shows that you owe RM30,000 on the auto loan and your vehicle is worth RM20,000 at the time of the accident, and you have an RM2,000 deductible. Your car insurer would only pay out RM18,000 for your totalled vehicle. You would still owe your lender RM12,000. This amount has to be paid by you unless you have gap insurance.
Gap insurance is an optional car insurance coverage that protects car owners when the claim received from a total loss does not fully cover the amount owed. If you purchased gap insurance, this policy would cover that RM12,000 gap or difference.
An insurance company might not cover a total loss claim for some cases like:
Not having the appropriate coverage
Failing to keep up with the premium payments
Delaying the claim report to your insurance company
Filing a fraudulent claim
While waiting for your insurance company to send the claim payment to your lender, it is recommended that you continue to make loan payments until your claim is approved. Since the approval process takes time, you shouldn't skip payments as it could negatively affect your credit score.
How does a totalled car affect your insurance premium?
If you're involved in an accident and your car is declared a total loss, your next insurance premium will possibly increase. The higher rate is because your driving record may affect your auto insurance premium rate or cost. Even if you're not at fault during an accident, making a claim will almost certainly lead to an increase in your insurance premium.
Related: The Cost Of Getting Car Insurance In Malaysia
Your car insurer won't always cover for every accident, especially when your car is totalled
It is important to know what your car insurance will and won't cover in the event of a car accident as some providers do not offer total loss coverage. Before signing up for an insurance policy, it would be beneficial to understand if it actually includes a total loss coverage so that you won't end up losing a lot of money paying for a vehicle you can no longer use.
We hope you find this article useful when navigating a total loss claim process with ease.
Related: 3 Main Types of Car Insurance Coverage (And What They Actually Cover)