Updated on Aug 4th, 2017
Want to cut the costs of your daily KL commute?
The hikes in parking rates, car prices, fuel and even public transportation are making life increasingly harder for normal executives working in the city these days. That's why it is important for you to learn more about the best options to travel to work with the lowest cost and fastest routes available.
Last year, Kuala Lumpur City Hall (DBKL) announced that it will be imposing a two-hour limit for the public to park around the central business district (CBD) areas, Bangsar, Sri Hartamas and Kepong.
Apart from that, the current parking rates are between 50 to 80 sen an hour. DBKL will soon be implementing a new pricing system which will see the new rates to be set at RM2 for the first hour and RM3 for the second hour.
5X 360' Rewards Points for Dining, Departmental Stores & Overseas spend
1X 360' Rewards Points for Other spend
ZERO Annual Fee, FREE for life
Though this move should be applauded for helping reduce traffic congestion during peak hours, many are still perturbed over the undersupply of parking spaces and overcharged parking rates by some building owners and parking operators. Even private car park owners are renting out parking with high rates, making easily up to RM12 a day and RM200 on a monthly basis.
And to top things off, it was also recently reported that Bukit Bintang City Centre's development work will begin in September which will possible worsen the traffic situation even further in the heart of Kuala Lumpur.
If you are looking to save on your daily KL commute and avoid from being trapped in traffic snarls, read on to find how you can save both time and money: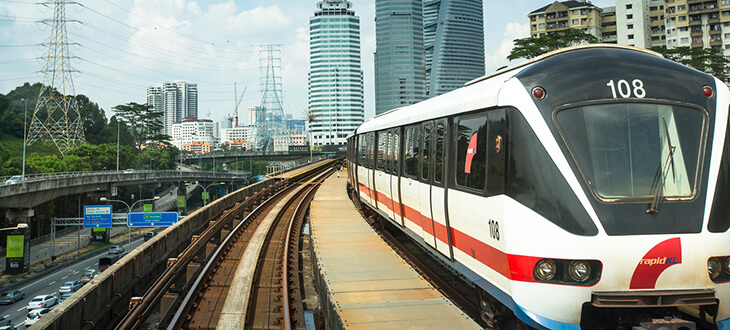 1. Use The Train System
Looking at the efforts undertaken by the government to increase accessibility with the many light rail transit (LRT), KTM train, monorail trains and buses, you should do some homework by looking at the stations nearest to both your house and office. Parking spaces are readily available at most of these stations to encourage the use of public transport.
MRT Sungai Buloh- Kajang is fully operating since July 2017 and it brings commuters all the way through One Utama, TTDI, Phileo Damansara, Bukit Bintang, Muzium Negara (KL Sentral) and many neighborhood places.
Integrated stations such as KL Sentral, Masjid Jamek, Dang Wangi (Bukit Nanas) and Hang Tuah are among the stations that have the highest volume of passengers due to the ability to change between different modes of transportation, as well as their proximity to the offices in the area.
It is also somewhat a relief that the extension of the Kelana Jaya LRT line is now operational with 12 new stations, including Ara Damansara, Subang Jaya and USJ before ending at Putra Heights. Apart from Subang Alam and the integrated Putra Height stations, the other stations under the Kelana Jaya Line Extension Project are Lembah Subang, Ara Damansara, Glenmarie, Subang Jaya, SS 15, SS 18, USJ 7, Taipan, Wawasan, USJ21 and Alam Megah.
The new Kelana Jaya extended line is connected to the KTM Komuter network at Subang Jaya and the Bus Rapid Transit – Sunway Line at USJ 7 Station, providing seamless travel and excellent connectivity for commuters.
The Ampang Line Extension, on the other hand, starts from Sri Petaling Station, which is part of the Sri Petaling Line, and passes through Kinrara, Puchong, and ends at Putra Heights. The extension is 18.1km long with 11 new stations.
Learn to use your Touch 'n Go card to pay for your public transportations and find out other features here.
2. Buses
Apart from the trains, you should utilise the free shuttle buses which circle the city and cover many hotspots. The two shuttle buses are Green Line (KLCC- Bukit Bintang- KLCC) and Purple Line (Jalan Sultan Mahmud- Bukit Bintang- Jalan Sultan Mahmud).
As for other areas, RapidKL also provides buses for coverage based on a fixed pricing package as shown below. Or, if you are frequent users of these buses, might as well apply for its MyRapid Bus 30 Days which gives you unlimited rides on the buses on a monthly basis.
3. Uber and Grab
Car hailing applications are no stranger to Malaysians especially to those who prefer to go to work during flexible hours. The number of users of both Uber and Grab continues to surge due to its affordability and easiness to use.
However, here is a table of rates as provided by both companies:
4. Carpooling
Malaysian are still not very enthusiastic on the concept of carpooling due to security and culture issues, yet the trend is on the rise and it should be largely encouraged as this method can help to improve traffic conditions and minimise cost.
It is rather disappointing to note that Tripda which was founded by Rocket Internet, announced the carpool mobile app's closure due to a lack of funding when it was performing well and gaining popularity in the mass market. Nonetheless, this does not mean carpool culture has to end here.
Grab has introduced GrabHitch, a new carpool service where drivers can offer rides if they have available seats in their daily routes. Passengers can make trip requests between 2 hours and 7 days in advance by clicking on the GrabHitch iconin Grab app. The fare is calculated based on the pickup and dropoff locations and will be displayed in the app once you input these locations.
MyTeksi and GrabCar are focused on allocating the nearest vehicle to passengers whereas GrabHitch aims to pair potential passengers with regular drivers that are already going in that direction. Currently GrabHitch core service areas include KL City Center and Subang area. Other than that, you can even try looking for relevant Facebook pages, companies, neighborhood and community networks to ask for rides or passengers to fill in your empty seats.
These are just some of the various ways that you can save money on your daily commute to KL. If you have any other tips or suggestions, do let us know in the comments!
8X Rewards Points for Mid Valley Megamall & The Gardens Mall spend

5X Rewards Points for Malls & 1X for Other spend