COVID-19 Pandemic and the Movement Control Order (MCO) have affected Malaysians on how they choose to commute and move around. Our survey revealed that the majority would prefer to drive instead of taking public transport after the MCO has been lifted due to the on-going pandemic concerns. The intent of buying or owning a car is likely to continue as most Malaysians still need to travel for work apart from the behavioral change that has manifested in the new normal.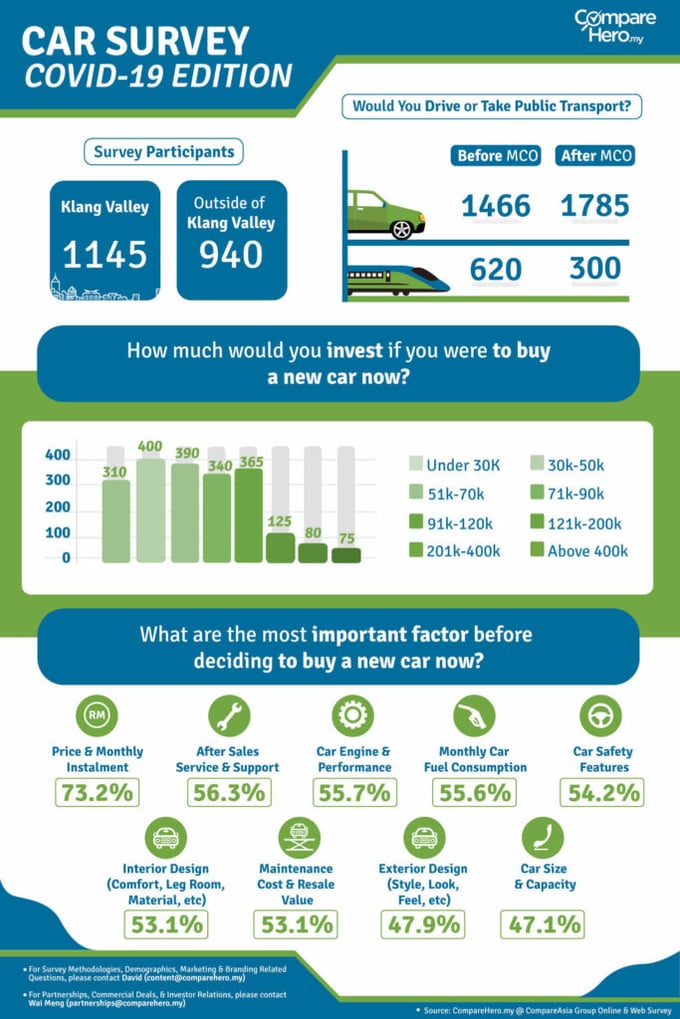 From our survey (please refer to the infographic above):
More than 51% of people who usually take public transport have opted to drive after the easing of the movement control order (MCO).
The majority (73%) opt to buy cars below RM120K, though there is still a size-able 27% who are looking to buy cars above RM120K.
Price (73.2%) is the most important factor to decide on a new car purchase, followed by After Sales Services (56.3%), Car Performance (55.7%), Monthly Car Fuel Consumption (55.6%), Safety Feature (54.2), Interior Design (53.1), Maintenance & Resale Value (53.1), Exterior Design (47.9) & Car Size & Capacity (47.1).
Reach out to us:
For Survey Methodologies, Demographics, Marketing, & Branding Related Questions, please contact David (content@comparehero.my)
For Partnerships, Commercial Deals, & Investor Relations, please contact Wai Meng (partnerships@comparehero.my)