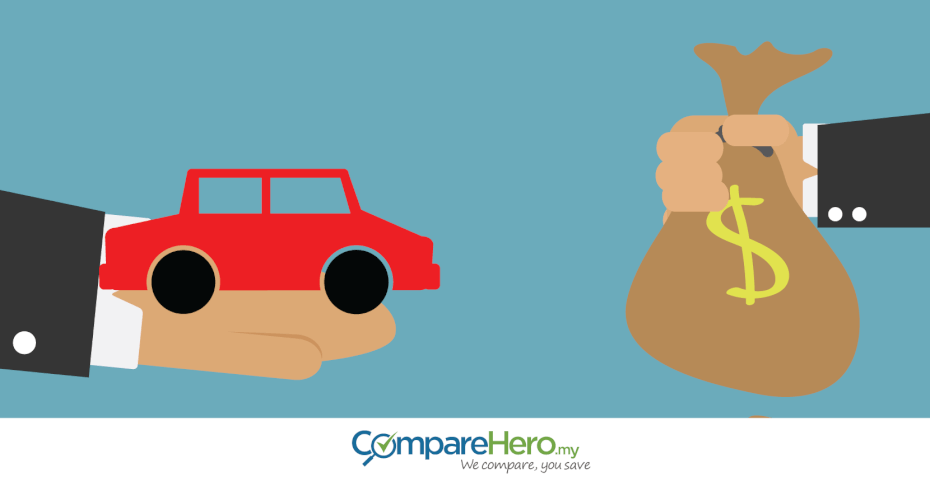 Now might be a good time to buy a car, especially with the car price wars taking place as each manufacturer bids for your attention. With Chinese New Year around the corner, car manufacturers in Malaysia are apparently battling it out with many of them offering Ang Pow deals and discounts to entice buyers. Learn about the ongoing offers available and how to get the most for your money.
Why Are Cars Expensive in Malaysia?
Cars are expensive in Malaysia because of the excise duties imposed on foreign cars, which can go up to 105%! The excise duties imposed on imported cars causes the price to hike almost three times more or 300% more than the original price in Malaysia. Excise is a type of tax imposed on certain goods ported or manufactured in Malaysia. This makes most foreign cars extremely expensive for Malaysians, although cheaper in other countries.
But the revised National Automotive Policy announced in 2014 will supposedly reduce imported car prices by 20 – 30% by 2018. However, this will only apply for imported cars that are locally assembled and incentives will also be granted to reduce the amount of excise duty payable to companies of car manufacturers involved in local value-added automotive components.
Yet with all this in place, it was recently reported that sales of cars will a see a reduction this year, which may not come as a surprise as most of us are aware of the current economic uncertainties. Below are the ongoing offer available for buyers.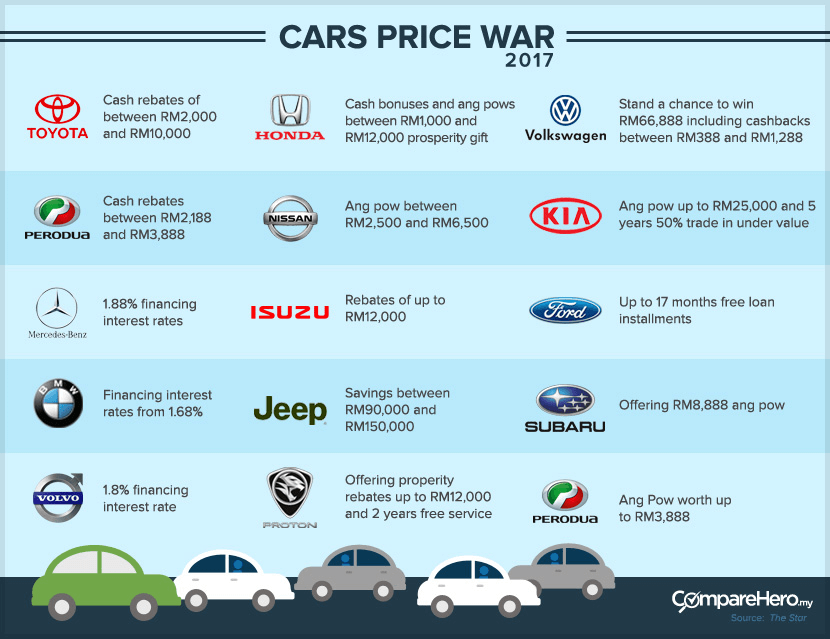 What Offers Are Available For Car Buyers?
With so many offers available, you may be confused as to which would give you the most value for your money. For starters, right now there are cash rebates, cash bonus, Ang Pows, low financing interest rates, free service and free loan installments.
As for the free loan instalments from FORD, you get to enjoy a lower, fixed instalment amount. For example, with the FORD fiesta which is priced at RM98,488, you pay RM1034.94 for 17 months. After that duration you will pay the normal instalment rate.
The cash rebate and Ang Pow offers seems to be a good deal for prospective car buyers as you can enjoy a lump sum taken off from the total car price. The real bargain buyers should look at are the 2016 models as most car manufacturers are offering more discounts for it.
The stiff competition among car manufactures is supposedly beneficial for buyers. However, the Federation of Malaysian Consumers Associations (FOMCA) secretary-general Datuk Paul Selvaraj said that while competition among car dealers would benefit consumers, before buying a car one should first make sure they can afford it,
"If they are able to manage their finances well, now would be a good time to get a car. However, they need to see if they really need to buy a car as it is the largest expenditure next to buying a house,"
He also said that failure to repay car loans was among the reasons why many Malaysians end up bankrupt. This is confirmed by statistics from the Insolvency Department that showed 27.94%, or about 28,374 bankruptcy cases that the department had recorded between 2011 and 2015 were caused by car loans.
Do take note that all of these promotion will be subjected to terms & conditions. For example, we were told that for the FORD promotion it will only be applicable for the 2016 models of FORD cars and while the stocks lasts. Additionally, most of the offers from car manufacturers are also limited to certain car models. Most of the deals expires on 31st January 2017.
It was reported that Malaysian automotive sales experienced the lowest drop in six years, which could also be the reason behind the ongoing all-out price war among car manufacturers.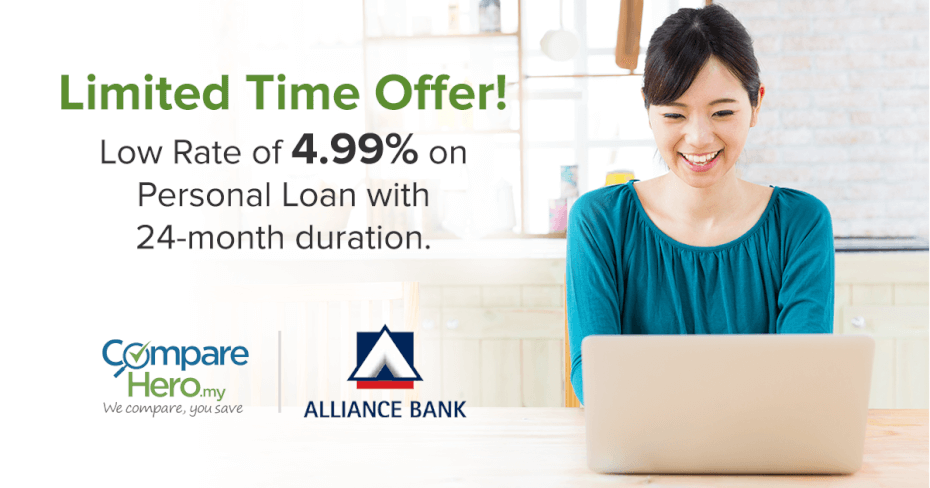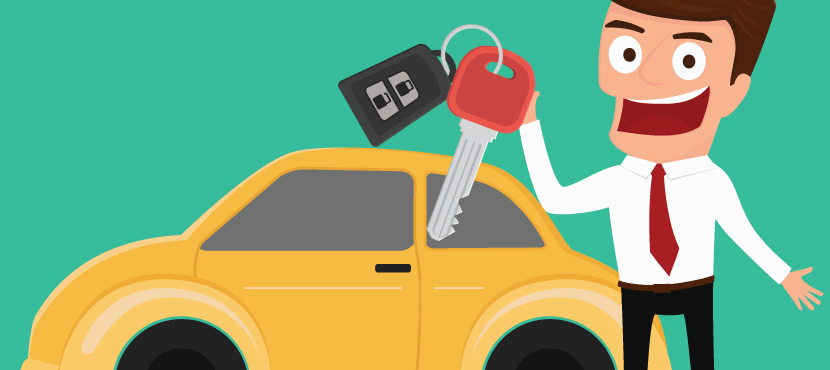 What To Consider Before You Buy A Car?
How much can you really afford?
Chances are, you will be applying for a loan to pay for your car and most banks require that your financial commitments are not more than 1/3 of your salary.
Let's say you earn a nett pay (after deducting EPF, SOCSO etc) of RM2,500 monthly. Your car loan must then not be more than RM820 per month.
As for the car loan duration, there are pros and cons for taking a shorter loan repayment period. In Malaysia the maximum duration for a car loan is 9 years. Longer loan duration means less deduction on your monthly salary, but that will also translate to higher interest rates. This means although you stretch the repayment period, you will also end up paying more in the end. Zero down payment which is also available these days will also cause you to end up paying more in the end. With the current promotions offered, cash rebates and cash bonuses will help take off a sizeable chunk off the car price and may also help with affordability.
Don't forget that every year you will also need to factor in the cost of insurance and road tax, aside from the additional expenses of owning a car like petrol, parking and maintenance cost because even if you receive free service it will usually only last for 2 – 5 years. You don't want a long car loan that might burden your future planning. Buy a car if it is within your means. If you can't afford it in the long run, don't buy it.
Hidden cost
The hidden cost are usually in the specifications. A salesperson at car dealerships may show you a car with the full specifications at the showroom. You then realise that at the entry price, you won't have the rims, or the sophisticated censors, audio system and what not. Remember, don't lose focus and don't be blinded into paying more to have the extra additions to the car. Buyers should also be cautious as the actual cost of the car and the repayment amount they will end up paying, regardless of the deals, will depend on their loan margin.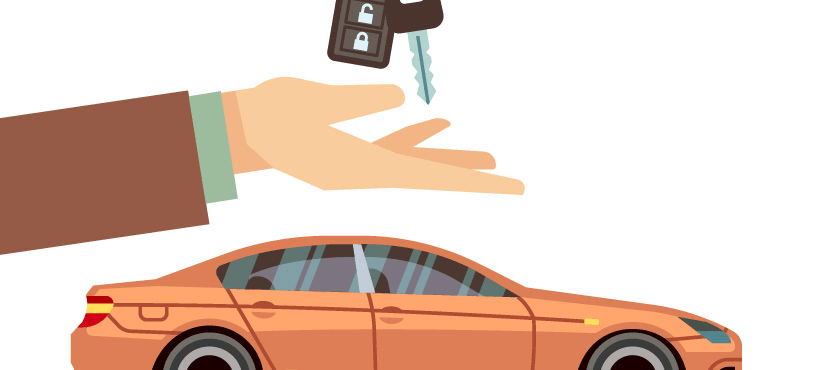 The right time
If possible, time your purchase to the right season. For example, leading up to big festivities such as Chinese New Year and Hari Raya Aidilfitri is a time when most car manufacturers will offer discount and deals. You may be able to get more during festivities seasons such as free service, free upgrades or even accessories depending on the car manufacturers.
Before making the purchase, make sure you consider all of the factors discussed above. Don't rush into buying a car fearing prices will go up, or just because there are ongoing promotions deals, only to be stuck paying off the debt many years down the road.
See also: 6 Reasons You Don't Need to Buy a Car in Malaysia