Beginning Monday, 14 August 2017, all 177 toll plazas in Malaysia will no longer accept cash as payment. Also known as Electronic Toll Collection (ETC), this is an effort to reduce congestion on highways and toll plazas nationwide.
Currently, only 158 toll plazas accept cashless payments and are fully electronic. Did you know:
Cash payments (manual) take 15 seconds
Touch 'n Go payment takes 6 seconds
SmartTAG payment takes 3 seconds.
"By using ETC, there is a decrease of 15%-20% in traffic congestion, and this reduces stress and anger of motorists on the road," said Dr Noor Azmi, Malaysia Highway Authority (MHA) chairman.
To help you prepare for the move to cashless tolls and highways, here are the ways you can pay for the toll in Malaysia.
PLUSMiles Touch 'n Go cards
PLUSMiles program is a customer loyalty programme developed by Projek Lebuhraya Usahasama Berhad (PLUS Berhad). Essentially, PLUSMiles Touch 'n Go cards are to reward highway users who use the card for toll payments. The PLUSMiles Touch 'n Go card can be used at all highways, as well as at other service providers, similar to a normal Touch 'n Go card.
Basic requirements to become a member are:
All 18 years old and above customers who reside in Malaysia, Singapore & Thailand
Registration is compulsory
All vehicle classes
Entitlement for 5% PLUSMiles Toll Rebate and Points Rewards are only applicable to Private Vehicle Class 1 only
The benefits when using PLUSMiles Touch 'n Go card are:
5% toll rebate
points rewards
discount and other privileges
Users of PLUSMiles will be entitled to the 5% toll rebate when their toll usage exceeds RM100 monthly at PLUS highways. However, this will exclude the Bukit Kayu Hitam Toll Plaza, Bangunan Sultan Iskandar Toll Plaza, Tanjung Kupang Toll Plaza and Penang Bridge. You can also enjoy special discounts and offers from selected PLUSMiles participating merchants. Current offers available for PLUSMiles can be viewed at www.plusmiles.com.my.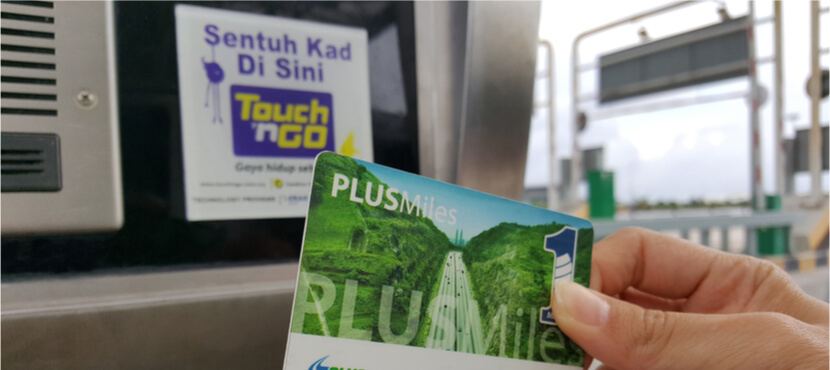 Touch 'n Go cards
Touch 'n Go is perhaps the most utilized electronic payment option for tolls in Malaysia. It is a prepaid smart card that uses contactless technology. The information contained in this card can be read and written via magnetic induction using specific radio frequency and smartcard software. There are different types of Touch 'n Go cards as per below:
Basic Touch 'n Go Card: This is the basic card and costs RM10.60 including GST. You will need to top-up to reload your card with value.
Touch 'n Go Zing: This card has an auto-reload function. It is linked with the user's credit or debit card account which will debited with the auto reload value. It is available for all VISA, MasterCard, AMEX and debit card holders of participating banks which are:
Tesco Clubcard: Card holders can enjoy Tesco Clubcard and TnG It can also be used as a prepaid smartcard at selected Tesco stores and other Touch 'n Go participating outlets.
Watsons VIP Card: A 2-in-1 card that provides reward points for Watson VIP members in addition to the benefits you are entitled to with Touch 'n
Touch 'n Go Photocard: Personalize this card face design with your own chosen photo or graphic. The card is priced at RM21.20, and is sold at Touch 'n Go Customer Experience Centre Bangsar South, NU Sentral Hub and Wisma Nufri Johor Bahru Hub.
Touch 'n Go cards can be purchased at:
Touch 'n Go Hubs
Touch 'n Go SPOTs at selected petrol stations
Touch 'n Go Sales Counters located at highways such as PLUS, ELITE, Ampang KL Elevated Highway, Penang Bridge, Besraya, SILK, Linkedua, New Pantai Expressway, Metramac and Shapadu.
Selected PETRONAS Stations, LRT Stations and third party agents.
You can also click here for an interactive map find a location nearest to you to purchase a Touch 'n Go card. To reload your Touch 'n Go card, click here for locations without any reload fees, and here to see reload locations with fees. As for the reload fees, it is RM0.53 sen per each reload at reload locations that charge a reload fee.
See also: Here Is What You Can Use Your Touch 'n Go Card For in Malaysia
MyKad
Your MyKad can also be used in the Touch 'n Go lane for toll payments. The benefit being that you don't have to purchase a separate Touch n' Go card. To reload your MyKad with cash value, give your MyKad to the toll operator and ask for it to be topped-up with your desired amount, with RM10 being the minimum amount. You can also use your MyKad for LRT, MRT and bus rides around Klang Valley.
But, make sure there's a Touch 'n Go logo at the back of your MyKad to make sure it also has the functions of a Touch 'n Go card. However, the downside is that if you had to change your MyKad, or you lose it, you will also lose the Touch 'n Go amount stored in it. However, the benefit of doing so is that, even if you have a separate Touch 'n Go card, you can use your MyKad as a back-up.
SmartTAG
If you frequently go through tolls on your daily commutes, this is the quickest electronic payment method at tolls in Malaysia. SmartTAG is an infrared device which will allow you to go through toll lanes at 2 times the speed of Touch 'n Go. This device cost RM127.20, but take note that it does not include a Touch 'n Go card. You will still need a Touch 'n Go card with a SmartTAG as it cannot be used without one. You can purchase SmartTAG at at Touch 'n Go hubs at KL Sentral, Bangsar South, and Wisma Nufri in Johor Bahru. Alternatively, it can also be purchase at Touch 'n Go customer service counters at selected PETRONAS stations and all customer service center along major highways.
Tip: SmartTAG device also doubles as a handy device to check the balance on your Touch 'n Go card.
See also: Easy Ways To Save Money On Your Commutes
Save
Save
Save
ZERO Annual Fee, FREE for life

5X TreatsPoints for all spend on American Express Reserve Card

1X TreatsPoints for Visa/Mastercard spend