Here's everything you need to know about Chinese New Year 2021, including the top preparation tips and key SOPs. Happy Chinese New Year from CompareHero.my!
Chinese New Year will be visibly different and quiet this year — a common sight for Malaysians during festive periods in most recent times. Ever since the COVID-19 outbreak last year, festive seasons in the country have never been the same for Malaysians.
But as hard as it may seem to celebrate these special occasions moderately and away from loved ones, the high number of COVID-19 cases — still well in the thousands — means that it could be for the best. Last week, the government announced that it would extend the Movement Control Order (MCO) to February 18, releasing a set of guidelines and SOPs for Malaysians to ensure the virus is well-controlled.
Some of the obvious differences for CNY this year are the smaller reunion dinners, limited visits to places of worship, and the absence of festive performances like lion dances. Even though CNY will not be the same, there are still many things you can do to keep the spirits up and ensure that this festive season is equally memorable as those before it.
Of course, not reuniting with friends and family will be hard, but there are ways to celebrate it separately. Besides, choosing to quarantine yourself and limit movement will hopefully, keep your loved ones safe from the risk of exposure to the virus.
To help ease your CNY planning, we've prepared a guide on how to celebrate CNY in today's new normal.
1. Ensure your reunion dinner is limited to a max 15 people
Some familiar faces may be absent in this year's reunion dinner, but don't worry - because you can still connect with them digitally!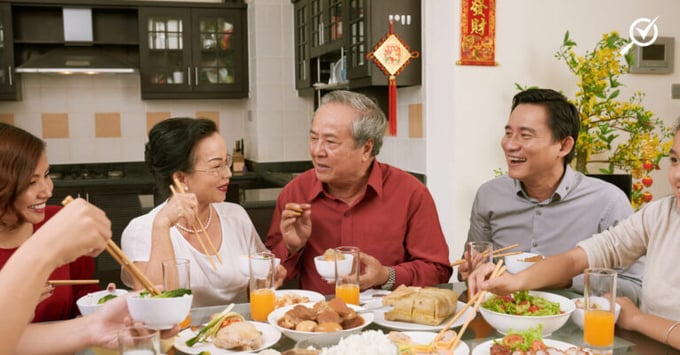 Similar to other cultures and traditions in our country, food plays an integral role in the CNY celebrations in Malaysia.
The dinner on CNY eve, also famously known as the reunion dinner, is one of the major traditional events and is significant for the Chinese community. It is widely considered as the most important family gathering for Chinese people and an important aspect of ushering in the New Year.
Traditionally, this large affair involves all members of the family — old and young, male and female, and can be enjoyed at home or at a restaurant. A lot of care and thought are put into the reunion dinner dishes so families may receive blessings for the next year.
However, because of the MCO, reunion dinners will be celebrated differently this year. According to the government's latest rulings, reunion dinners are permitted to only 15 family members who stay within a 10km radius (without interstate or inter-district travel).
For families who are not able to dine together, there is still a way to make this important custom happen — digitally! Though unconventional, it allows loved ones to enjoy reunion dinner together while apart. You and your loved ones could also sync up (digitally) and order the same reunion feast, and later create a collage of everyone's dishes to savour the moment.
Related: #CNY2021 – Best Reunion Dinners Below RM50 Per Person
2. Clean your house before the new year!
According to Chinese tradition and superstition, homes are cleaned before the start of the New Year to rid the house of bad luck and misfortune. It also opens up the space for good luck to enter one's life.
But besides upholding traditions and values, cleaning your house before a big festival is necessary because it allows you to organise your home and make sure that all essential items are in place and are easily accessible. Though the CNY celebrations would be more restricted this year, it feels nicer to celebrate in a clean and fresh environment.
From vacuuming under your sofa and behind that heavy cabinet, to emptying the junk drawers and scrubbing your kitchen cabinets and bathroom, there's plenty to do, so don't take any shortcuts! If you really think about it, cleaning your home can also be therapeutic — and after all the crazy events we've had to go through from last year till now, it may be a good way to unwind.
Arrange your clothing and shoes, reorganise kitchen appliances, and be sure to recycle, donate or discard items that are, as Marie Kondo famously says, "no longer sparks joy in your life."
Also don't forget to clean the exterior of your home because the outside is as important as the inside, and you don't want the exterior of your house to chase luck away!
Finally, don't sweep away your good luck by cleaning on the first day of the New Year. According to Chinese traditions, absolutely no cleaning can be done during the New Year because it would sweep out any good luck that is already in your home. Get all the cleaning done before the big day!
Related: #CNY2021 – How Much Does It Cost To Celebrate Chinese New Year During The MCO?
3. Decorate your house and ensure its elaborate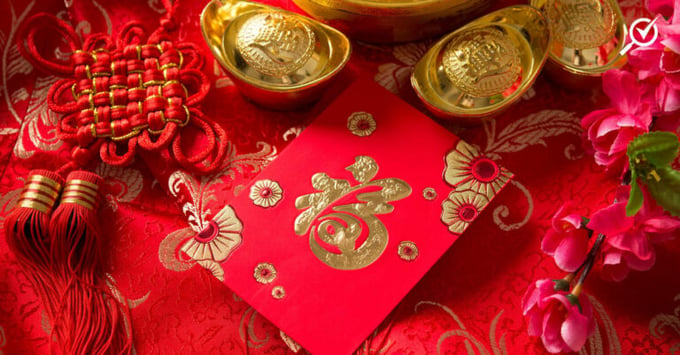 Swap those old and dusty curtains with new ones to brighten up the mood.
No festive celebration is ever complete without a great deal of decor!
Though you will most likely be indoors for the most part of CNY, that doesn't mean you can't get festive and hyped for the New Year! Decorate your house with red lanterns, ang pao fish, acrylic wallpaper, spring blossoms, and ornaments as a way to usher in the New Year and to keep spirits high.
Seeing how celebrations will be virtual this year, you may want to scout for a nice corner in your house and designate it as the dedicated area for your festive backdrop. This place has got to have good lighting — and superior internet connection— for all your virtual gatherings and catch ups.
We did expect you to have made your decor purchases ahead of time, but if you haven't, don't worry! You can DIY these decor elements as long as you have the materials at home.
4. Adhere to the SOPs and celebrate in smaller groups
To avoid the possibility of new community clusters, the government has drawn up a dedicated set of SOPs and guidelines so Malaysians can continue to celebrate CNY but at a safe distance.
Here is the list of SOPs: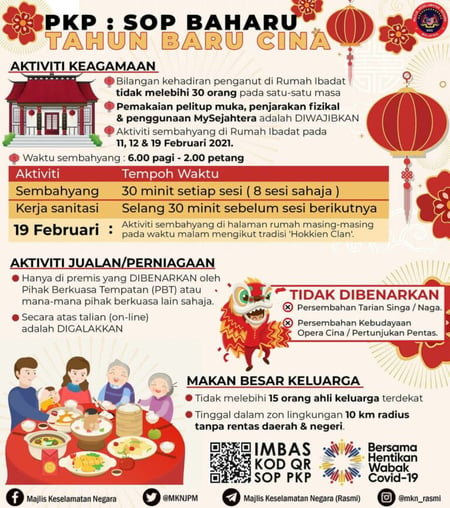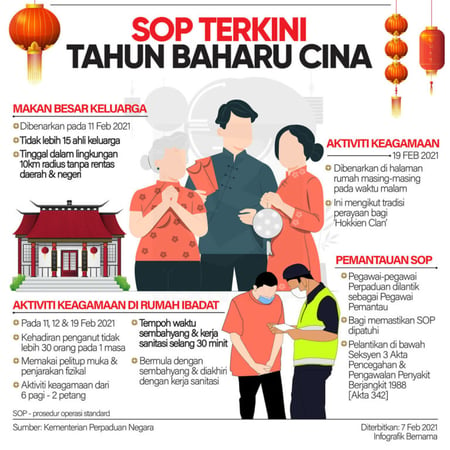 (Image source: The Ministry of Health)
Only 15 family members who stay within a 10km radius (without interstate or inter-district travel) are allowed to attend reunion dinners.
Only a maximum of 30 devotees per session are allowed to attend prayer activities at places of worship on February 11,12 and 19 (between 6 a.m. - 2 p.m. only).
Devotees can only spend a maximum of 30 minutes at the temple/place of worship and they must adhere to the SOPs (mandatory face masks, social distancing). Sanitisation works have to be done at every interval.
The Hokkiens may still perform their home prayers at night on February 19 for the Festival of the Heavenly God or Jade Emperor, as long as it is done within the vicinity of their homes.
House visits and big gatherings are not allowed.
Interstate travel is still banned.
No festive performances such as lion dances, festive parades, or lantern festivals are allowed.
Patrons may dine-in at restaurants and F&B outlets, but with a maximum of two people per table and social distancing of at least 1 metre.
Hair salons, car wash services, and pasar malam have been allowed to operate with strict SOPs from February 5 onwards.

Related: 8 Money Tips For Chinese New Year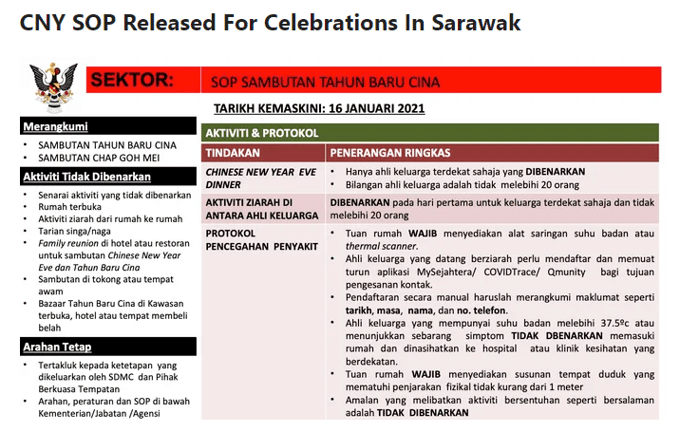 The State Disaster Management Committee (JPBN) of Sarawak has also released their own set of CNY SOPs. You may find the detailed guidelines on the official website of the Ministry of Local Government and Housing Sarawak.
CNY celebrations are only allowed on the first day of the festive season with a maximum of 20 attendees at a time, and is limited to immediate family members only.
Household owners must prepare thermometers/thermal scanners and must have attendees jot down their names manually or have a QR code put in place for MySejahtera check-ins.
No big celebrations such as lion and dragon dances, open houses, gatherings in restaurants, bazaars, prayers in temples, are allowed. The same applies to any practice that involves close contact such as shaking hands. Movement between places is allowed except between zones placed under the MCO and CMCO.
However, do expect further changes to the Sarawak SOP soon, according to the Sarawak State Government's latest announcement.
5. Stay at home and binge-watch feel good movies
Since house-hopping and visitations are capped within a 10 km radius, this will likely mean that many Malaysians will not be able to celebrate CNY with loved ones or celebrate outside of their homes.
To make up for that, you could instead celebrate CNY at home watching your all-time feel-good TV and movie bops, or go on a Chinese TV or movie marathon. Here are some of our favourites and classics: Shaolin Soccer, Crouching Tiger, Hidden Dragon, Ip Man, Mulan and The Wandering Earth. What's your favourite?
Don't have a TV? There are plenty of alternative streaming services (such as Netflix, iflix, Viu and more) to choose from. If you are not sure which service to choose, we recently did an article on the compared streaming packages and its price for you to choose from.
Related: #CNY2021 – Year Of The Ox: Here Are Your Financial And Career Predictions Based On Your Chinese Zodiac
6. Prepare video conferencing tools to connect virtually
We may be far apart, but we are still close at heart! Though you may not be able to see loved ones this CNY, you can still meet them virtually.
Software companies like Zoom, Microsoft, Google, and Skype, among others, all have video conferencing tools that you can use.
Your choice, however, may depend on how many participants you want per session because different platforms have different offerings. For example, Microsoft Teams, Zoom, and Skype can cater to 250, 100, and 50, members respectively.
A tip we've learned throughout the working from home period: test your digital calls before the big day as the less tech-savvy members will find using it a little challenging, and to avoid the typical frustrations that come with video calls.
7. Go digital, prepare e-angpows!
Expect to see more people use electronic red packets or e-angpows on CNY.
Because of the MCO, mobility restrictions have confined families in a 10km radius area, not even allowing them to cross district and state boundaries to meet loved ones. So it's not going to be surprising for families to depend on e-angpows this year, especially as the pandemic has intensified our dependency on e-wallets, and as Malaysians learn to be more digitally adept.
According to their press release, Maybank is expecting to see a continued rise in e-angpow adoption this year, and targets a 100% growth in both number and value of e-angpow transactions this CNY. The Bank sees its e-angpow service grow in 2021 as more customers become comfortable with the notion of sending e-angpow to loved ones as part of CNY and the new normal.
8. Prepare a CNY checklist for your own sanity
The beauty of checklists is that they help keep you organised, and ensures you don't miss out on any important items. And if you lack self-discipline— let's be honest, we all do sometimes — it also allows you to be accountable for the tasks that need to be completed.
Create a detailed and comprehensive checklist on all the chores that need to be done ahead of the reunion dinner and CNY. Typically, a simple checklist will include cleaning your kitchen, vacuuming the house, and preparing the meal for the dinner.
We would usually recommend doing a budget sheet as well, but we are sure you have done your CNY shopping way ahead of time and all that's left to do is to prepare for the big day and to tick items off your checklist.
A simple checklist can consist of the following:
Kitchen – Clean and declutter the fridge, and wipe those countertops till they are sparking clean.
House – Get rid of dust bunnies by vacuuming the house thoroughly, and clean all fabrics at home such as curtains, carpets, and sofas.
CNY goodies – If you have time to spare, you could bake CNY cookies on the night of the reunion itself.
Family and friends – List down the names of family and friends you would like to send CNY digital greetings, cards, gifts, and wishes to. You definitely don't want to forget anyone!
CNY angpow – Allocate enough money for different members of the family, and prepare to do it digitally through e-wallets instead.
Work – Time management is king. Plan your work around the holidays so you complete or space out your tasks. Enjoy the festivities with a peace of mind!
Hygiene tools – Part of the new normal is to practice strict hygiene, so stock up on sufficient masks, sanitisers, and disinfectants when families come to visit within the CMCO guidelines.
Must-have CNY food – CNY wouldn't be the same without traditional reunion dinner! Learn the recipe if you must! We take a look at some of the best budget-friendly reunion dinner packages in the Klang Valley, which cost less than RM50 per person.
Music – CNY wouldn't be the same without the CNY music that we usually hear in the malls. Not sure where to find an awesome playlist? We've got you covered. Check this out on YouTube.
Stable virtual call setup – Check your wifi or data usage before CNY morning to avoid that annoying video call lag. Also experiment with different placements of your router or devices to get the best connection.
CNY decorations and trinkets – Spice up your CNY with festive decor and permissible fireworks. Being stuck at home shouldn't stop you from having fun!
Clothes – Pick your CNY clothes before the big day. If you're feeling cheeky, match it with family members.
Related: Chinese New Year Ang Pow – What does it mean?
Don't be disheartened, this too shall pass
Though celebrating a special occasion away from loved ones is hard, don't be sad, because there are still many ways to connect digitally.
Let's keep our heads high and appreciate the many small blessings that are still bestowed upon us every day, like a roof over our heads and food on our table.
Happy Chinese New Year from us!