Budget airlines may offer you cheaper prices in terms of flight tickets, but have you ever realised that most budget airlines charge you an arm and a leg when it comes to add-ons or worse, flight changes?
For starters, here's a quick look at the breakdown of some of the add-on charges set by the budget airlines operating in Malaysia: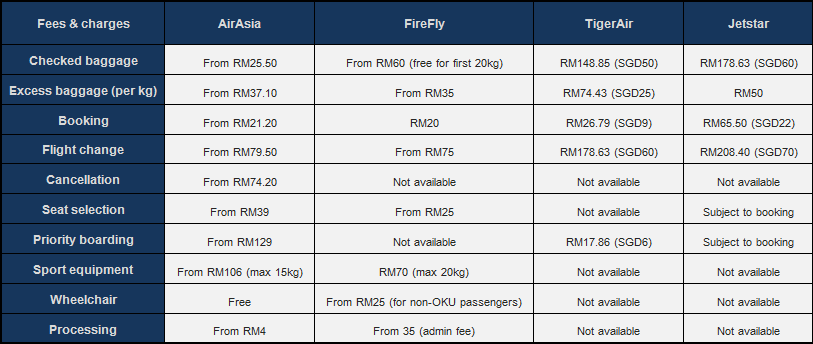 *Fees stated varies depending on flight destinations.
*Fees for TigerAir and Jetstar are quoted in SGD in their websites, the conversion rates shown are based on the rates on 24 May 2016 at 10.45am local time.
*Not Available refers to the fees not being listed in the airline's website.
Related: 5 Reasons Your Credit Card is Better than Cash when You are Travelling
Baggage Fees
Baggage is perhaps the second most important fee to look at, right after the flight tickets. Looking at the checked baggage fees for all 4 budget airlines, it does appear like AirAsia is the cheapest of them all. But don't be fooled, unlike that offers free 20kg checked baggage, AirAsia only offers free 7kg carry-on luggage and everything else that goes into your checked baggage will be charged.
AirAsia's checked baggage fees differ depending on the country that you're travelling to. For example, the checked baggage fee for domestic flights starts from RM25.50 (15kg) while the fees for international flights start from RM45 (20kg). Bear in mind that the fees stated only hold true if they are pre-booked with your flight tickets. The weight of checked baggage varies from 20kg to 40kg per person with the most expensive option reaching up to RM199 (if pre-booked with flight tickets). Click here for more detail on AirAsia's fees and charges.
It looks like FireFly IS the cheaper option with its free 20kg checked baggage allocation, BUT you'll be paying dearly for anything more than the given free weight. For domestic flights, FireFly charges RM60 for an additional 5kg, RM120 for an additional 10kg and RM180 for an additional 15kg. As for international flights, the fee for each additional 5kg is RM100, so it's RM200 for an additional 10kg and RM300 for an additional 15kg. It gets worse – the fees stated are applicable only if you pre-booked them online. Click here for full listing of FireFly's checked baggage fees and charges.
To avoid paying more, we strongly recommend booking your checked baggage in advance, along with your flight tickets as the fees will be much cheaper than if you purchase if afterwards. Pay only for the weight that you need, but don't buy the cheaper option when your luggage is heavier. Upon check-in, your luggage will be weighed and tagged, and if the weight exceeds the allocation that you've paid for, you'll be charged with excess baggage fees right there and then – which will cost you more.
Related: Countries Malaysians Can Travel to Visa Free in 2019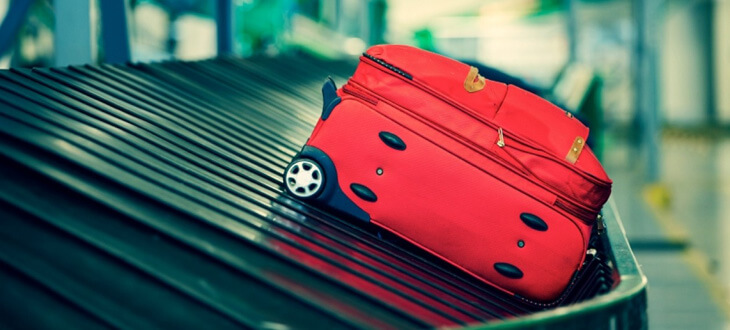 For AirAsia, the excess baggage fee ranges from RM37.10 to RM50 per kg while FireFly charges between RM35 to RM50 per kg. FireFly also charges a fee for excess hand baggage or carry-on baggage, which is at RM50 per kg for domestic flights and RM100 per kg for international flights. So be careful when packing and take precautions such as weighing your luggage before you leave home to avoid any of these additional charges.
TigerAir and Jetstar are budget airline companies based in Singapore (which is the reason why their fees are in Singaporean Dollars (SGD) on their websites) and they both offer limited flight destinations from Malaysia. Unlike AirAsia and FireFly, these budget airlines have standard checked baggage fees of SGD50 (roughly RM149) and SGD60 (roughly RM179) respectively.
Related: Travel and Get Rewarded With Standard Chartered's WorldMiles Mastercard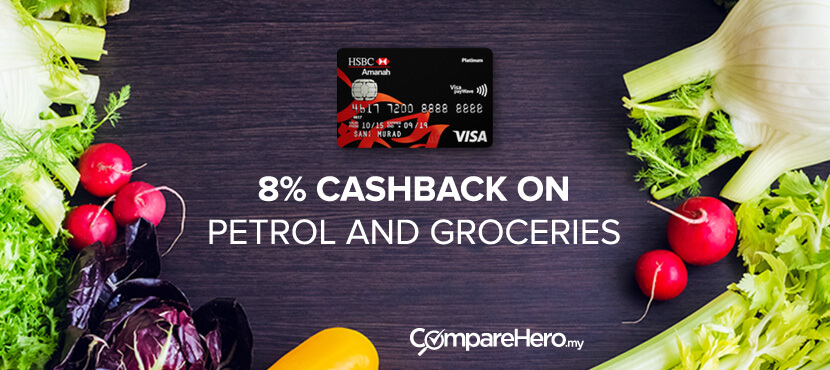 Note that Jetstar allows 7kg of free carry-on luggage while TigerAir didn't specify any free carry-on allowance on its Malaysian website, although under its Cabin Baggage information site it was mentioned that there is a free 10kg carry-on luggage for TigerAir Singapore and TigerAir Taiwan. You can view TigerAir's fees and charges here, and Jetstar's here.
In terms of baggage fees, FireFly is the clear winner as the cheapest among the 4 budget airlines with its free 20kg checked baggage allocation. But if your luggage weighs more than that, AirAsia would be the smarter choice.
Related: Read This Before You Book Your Next Flight
Flight Changes
You'll never know what might happen until you're actually on your flight, so it's worth knowing the flight change fee, cancellation fee (if any), and even any booking fee that might be incurred if you make your booking through the budget airline's call centre or a travel agent.
All 4 budget airlines charge a booking fee if you make your flight ticket reservation on any other platform than their official website. AirAsia charges up to RM30 while FireFly, TigerAir and Jetstar charge a flat rate of RM20, SGD9 and SGD22 respectively. Avoid paying for this unnecessary cost by booking your flights directly from their website.
If you need to change your flight, be prepared to pay for the flight change fee. AirAsia charges between RM79.50 to RM220 for its flight change fee while FireFly charges between RM75 to RM105, making it the far cheaper option. TigerAir's and Jetstar's flight change fees are more expensive considering that the fees are in SGD, which are SGD60 (roughly RM179) and SGD70 (roughly RM209).
Related: 7 Ways Your Credit Cards Can Help You Save While Planning Your Vacation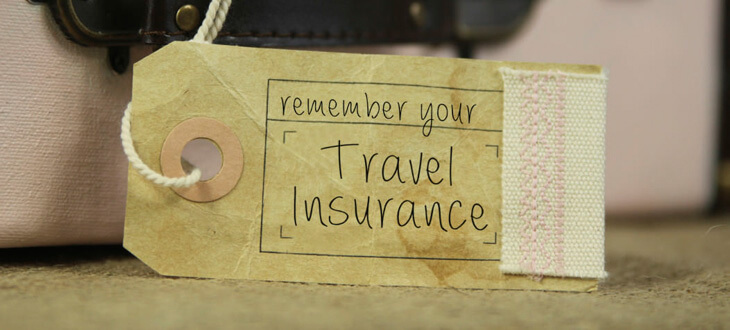 As for flight cancellation, only AirAsia charges a cancellation fee out of the 4 budget airlines, but that doesn't mean you get a refund for flight ticket you've paid for. AskAirAsia explained that no refunds are given for any flight cancellation, although you may make a refund request for the paid Airport tax by filling in an online request form. This refund request can only be made after the flight departure date. FireFly did not specify anything about Airport Tax refund in its Clause 5, although it mentioned that you can make a request for a refund of the airport tax paid under if FAQ section after the flight departure.
TigerAir clearly states that they operate under a no refund policy under its Fare Conditions section on its website, although you can request for airport tax refund via their official website. You can make the refund request within 90 days after your flight departure date, although an administrative fee of SGD50 (roughly RM149) will apply.
Although Jetstar stated a refund fee of SGD50 (roughly RM149), there isn't any clause or explanation on airport tax refund. You can view Jetstar's fare rules here.
We recommend investing a bit of money in changing your scheduled flights so that you can still travel at another time, rather than losing the amount of money you've paid for earlier by cancelling the flight.
See also: How Budget Airlines Rip You Off And How To Stop Them

Seating Arrangements
Un-check any boxes for preferred seats or priority boarding. These charges may seem little, but they'll add up to the cost of your flight tickets, airport tax and service charges making the total figure completely different than what was first displayed on your screen.
AirAsia charges between RM6.36 to RM39 for standard seats and between RM31.80 to RM129 for its Hot Seat, which gives you extra leg room. FireFly on the other hand, charges RM15 to RM45 for its seat selections. While TigerAir charged SGD6 for its priority boarding, nothing is mentioned on its fees and charges page about preferred seating fee, and Jetstar states that the fees are subject to bookings.
Related: Malaysians Will Have to PAY to Leave The Country ?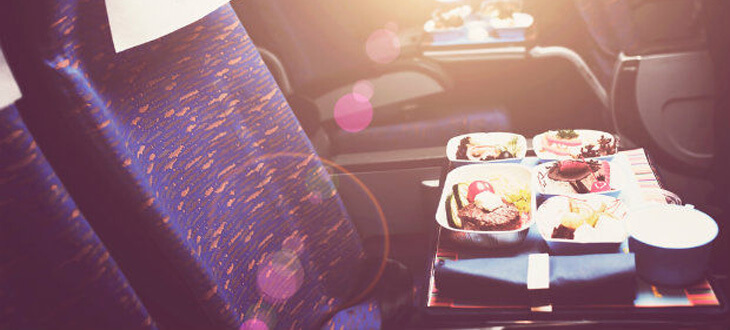 It's safe to say that FireFly is still the cheaper option when compared to the other 3 budget airlines in this category. Also, while AirAsia provides free wheelchair service for international flights, you will be charged RM63.60 if you pre-book it for domestic flights, and RM127.20 for requests made at the airport counter. It isn't clear, however, if the charges apply to the OKU as well.
FireFly offers free wheelchair service for the OKU, although it charges between RM25 to RM40 for pre-booked requests (non-OKU) and RM30 to RM40 for airport counter requests. The charge for Singapore-bound flights are SGD35 (pre-booked) and SGD40 (airport counter).
Related: Budget Airlines in Asia: How Safe Are They Really?
Jetstar did not specify any charges for wheelchair service in its Specific Assistance page, but TigerAir charges SGD20 for its wheelchair service, provided you inform them during the booking or at least 3 days prior to the flight date.
So which is the cheaper budget airline when it comes to add-on charges? We're inclined to say that FireFly is the cheapest option – provided your checked luggage is under 20kg. It is unfortunate that FireFly does not offer many flight destinations as AirAsia does, considering that it's far cheaper than the red budget airline.
We're hoping that AirAsia and the other budget airlines will endeavor to lower its add-on charges to truly live up to their reputation of being budget airlines! If you want to get back to them, why not get a credit card with great air miles feature and win yourself some free flight tickets here!
Related: 5 Ways To Take Advantage Of Your Travel Insurance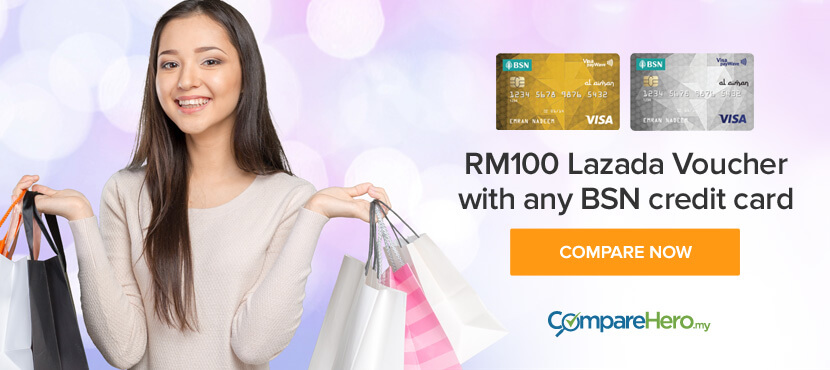 Save