It's time to shop smarter and harder for 10.10 sale this year! If you're an avid online shopper, you should totally make a list of online shopping deals offered by different brands and stores in Malaysia. Here are 5 best deals that we found, read below to find out.
---
It's that time of the year again where shopaholics across the country are all gearing up for one thing, and one thing only - the 10.10 sale, one of the hottest sales of the year.
The presence of the COVID-19 pandemic - until the foreseeable future - shouldn't hinder us from enjoying our retail therapy. In fact, the pandemic has only accelerated our shift to digitalisation, and thus online shopping, as technology grows to become a more integral part of our daily lives.
This trend is reflected in consumers and our shopping habits – a larger percentage of society is becoming more dependent on shopping online instead of the traditional brick-and-mortar stores.
With so many exciting deals to be on the lookout for, and so many different brands and merchants to choose from, it can be easy to splurge unnecessarily on things that you don't really want or need just because the price may seem okay.
We're here to help you narrow down the options by sharing some of the best deals and provide some tips on how to navigate the 10.10 sale so you'll make the most out of your shopping experience.
But before we get into what we feel are the best 10.10 deals, here's a few tips on how to make the most out of your shopping experience.
Also read: Top Lazada And Shopee Tips And Tricks Every Online Shopper Must Know!
Prepare a list of what you want to get
Have you ever bought something and then instantly regretted it?
Well to avoid such circumstances, it's always better to list down all the items that fall into your wish list and make a list of things that you need or want before you embark on any shopping endeavour.
Optimise your spending by paying with credit cards and e-wallets
We've already written about this, but certain shopping platforms (like Shopee) has its own close-loop e-wallet, which basically means that the money in your e-wallet can only be used on the platform itself.
And we are of the belief that since you're already going to be spending on the platform, might as well use a payment system that actually rewards you. And the platform comes with its own perks such as cashbacks and rebates.
For example, to help Shopee users get more mileage for their Ringgit outside the platform, they're also roping in an RM3 cashback with a minimum spend of RM15 with ShopeePay at any of their offline merchants. (P/S: We hear that new ShopeePay users can get RM8 free cash when they activate their ShopeePay.)
Having an e-wallet also makes refunds extremely easy. Plus, considering banks are always on maintenance at midnight (the same time as when most major sale campaigns happen), pre-loading your wallet will easily allow you to take full advantage of sales as you can easily check-out without issues.
An added bonus: we found out Grab is giving a RM20 rebate when customers use GrabPay for their 10.10 online deals. Just spend a minimum of RM100 with participating online stores, and get a RM20 rebate from October 10 to 12.
Consider using credit cards tied to the platform
While you can use any credit card to make your purchases, there are credit cards that are designed specifically for online shoppers. These cards typically fall under a rewards system to entice customers to spend with their cards.
These cards are also no different to other credit cards but they come with the added benefit of getting more rewards as you spend on their respective platforms.
1. Citibank x Lazada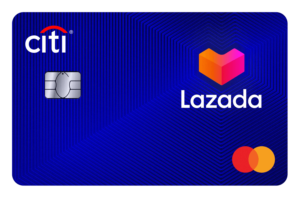 Rewards:
10X Citi Rewards Points for all Lazada (including Lazada Wallet) spend
5X Citi Rewards Points for selected Citi Strategic Partner(s) spend & 1X for Other spend
1,000 bonus Citi Rewards Points with min. RM1,500 monthly spend
Offset Lazada Spend via Citi Rewards Points

Requirements and fees:
RM2,000 minimum monthly income
RM100 annual fee, waived for first year upon activation
15% interest rate p.a.
9.99% balance transfer fee

Apply for Lazada Citi Platinum Card here

2. Maybank x Shopee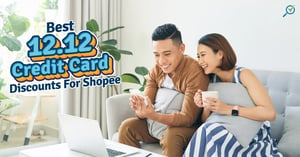 Rewards:
5X Shopee Coins on Shopee purchases on Special Days (28th of every month, CNY, Raya, 9.9, 11.11, 12.12)
4X Shopee Coins on dining, entertainment, and contactless payments
1X Shopee Coins on all transactions with card, online or offline
Earnings beyond 5,000 Shopee Coins to be rewarded as Maybank TreatsPoints
RM500 Shopee Vouchers (only for early birds who sign up for card by 7th July 2020 and spend RM300 within 45 days; first come first served basis)
(FYI, 100 Shopee Coins will entitle Shopee users to RM1 discount off any order from Shopee Mall or Shopee Preferred Sellers. The fact that users get to use the credit card for everyday purchases outside the platform gives this a big plus point.)
Requirements and fees:
RM2,000 minimum monthly income
RM0 annual fee (Lifetime annual fee waiver)
15% interest rate p.a.

Apply for Maybank Shopee Visa Platinum here

3. CIMB e Credit Card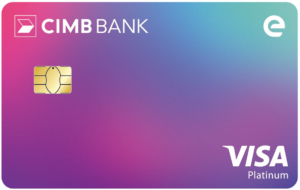 Rewards:
12x bonus points with featured partners
10x bonus points with non-featured partners
5x bonus points for online and auto-billing transactions
1x bonus points with in-store contact-less and other transactions

Requirements and fees:
RM2,000 minimum monthly income
RM100 annual fee, waived for the first year, waived for subsequent years with total annual spend of RM12,000
15% interest rate p.a.
7.99% balance transfer fee
By the way, the CIMB e Credit Card offers exceptional deals every 10th of the month if you didn't know that already!
Get rewards of 10X to 12X Bonus Points for almost all your e-payments as well as contactless in-store purchases. Their featured partners include Shopee Lazada, Taobao, REVO, Poptron, The Coffee Bean, ZALORA, MR. D.I.Y., HappyFresh and The Body Shop.

Apply for CIMB e Credit Card here

Related: 6 Best Shopping Credit Cards For Malaysians
Take advantage of bank promotions
While spending on certain shopping platforms, like Shopee for example, take advantage of their partnership with different banks, as well as the credit card that your account is tied to get additional value for your money.
We've mentioned this before, but we found a handy list from mypromo.my, which we've summarised below.
Disclaimer: There are various terms and conditions, such as minimum spends, excluded products, and utilisation periods. These promotions are also at the discretion of the platforms and banks, and are subject to change.
Here's a list of additional discounts you can get if you're a shopee user and have a credit card tied to it:
Mondays: Standard Chartered Mastercard users can get RM30 off
Tuesdays: Maybank credit card users can get RM15 off
Wednesdays: Citibank card users can get 15% off
Thursdays: UOB credit card users can get RM30 off
Fridays: RHB credit card users can get RM18 off; RHB credit card users can get RM10 ShopeePay voucher upon e-wallet top-up
Saturdays and Sundays: AmBank credit card users can get RM30 off
Now that we've got the tips out of the way, here are the five top sales we think you should be aware of:
1. ShopeeMall
If you're completely new to online shopping, then you might want to try scavenging on Shopee as they are offering multiple deals as part of the 10.10 sale.
Their platform is also generally a great place to get a variety of items at discounted prices, from kitchenware to skincare, home appliances and food and beverages. Its diverse product offerings make it suitable for all types of consumers.
To pull in the crowd, Shopee is offering new customers free shipping, a welcome treat of RM8 off for a minimum spend of RM40, and RM10 off via ShopePay.
Other great deals include:
a) Midnight Madness
As soon as the clock hits midnight on 10 September, you get to go on a shopping frenzy as the RM10 lowered free shipping is expanded sitewide from 12AM - 2AM. Some other great discounted products below:
Twin Point Chef's Slicing & Paring Knife Set (3 Pcs) - RM187 from RM 249
Sulwhasoo Overnight Vitalizing Mask 120ML - RM78 from RM183
Dyson Cyclone V10 Vacuum Cleaner - RM1950 from RM2245
Realme Band - RM 79 from RM129
Shopee's Super Brands Spotlight is also exciting as you can get huge discounts on items that are 100% authentic for electronics, daily essentials, fashion and lifestyle.
The huge discounts include:
Electronics
Up to 30% off of Samsung
Up to 12% off WesternDigital
Up to 48% off Philips
Up to 75% off Perry Smith
Up to 48% off Huawei
Up to 44% off Vivo

Fashion
Extra 50% off voucher for Siti Khadijah
Up to 25% off Christy Ng
Extra 50% off voucher for Timberland
For a full list of discounts, click here.
b) Vouchers and rewards
To encourage people to shop in their online stores, Shopee is offering a vast array of vouchers for users to collect. They are offering coins cashback of up to 25% and vouchers like RM55 off Timberland products or RM100 off Samsung products.
Set reminders to be notified about their big 10.10 rewards for specific time slots throughout the day, such as 25% coins cashback at 1AM, 20% coins cashback at 10am, 15% coins cashback at 1pm and 10% coins cashback at 10pm.
Disclaimer: these aren't all the time slots, we just narrowed it down, but check out their website for the full time slot.
Of course a lot of these deals come with minimal spending, so be sure to read the T&C before committing to anything. Take advantage of this great promo to stack your vouchers to maximise savings.
Here's a list of their other great promos:
1. 24x Brands Spotlight
Like its previous spotlight, Shopee is offering large discounts of up to 79% on 100% authentic products. On 10.10, enjoy more Brands Spotlight slots (usually doubled) compared to regular daily promos. This segment features limited time special deals and vouchers from brands like Anker and HP.
2. 10 Sen Deals, No Shipping Fee
If you thought buying something for 10 cents was a crazy idea (it kinda is) - well it's really possible with Shopee's 10 Sen Deals. Now you can get random items like a mosquito repellent badge or a baby infant teether or a 3M shoelace for as low as RM 0.10.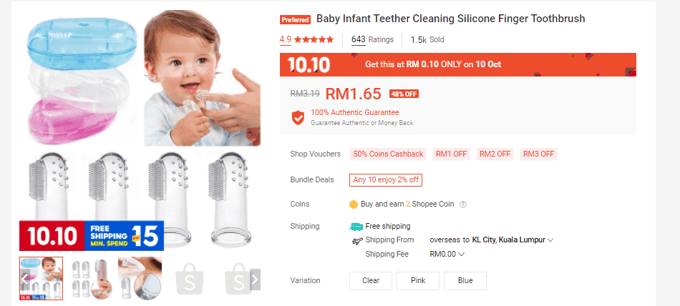 3. 12x RM10 Shocking Sale Sessions
Perhaps you want more relevant items that come with a practical purpose. In that sense, you can get your hands on a tripod, shoes, sling bag, earphones and a mattress protector, among other things, for as low as RM10.
4. Play & Win Up To RM1 Million Prizes
Did you know that you could also play games on 10.10 and receive prizes? You heard us right, no money required, just you playing games online to stand a chance to win cool prizes. Some of these games include Shopee Poly, Shopee Farm, Shopee Candy, Shopee Snake, Shopee Claw, and Shopee Link. If you can also actually sharpen your skills for the actual date.
Scared of missing out on that super cool item you just saw? Shopee's RM 1 Deposit, Big Savings lets you sort of "book" the item by buying it now and to enjoy the savings later. All you gotta to do is follow the steps below: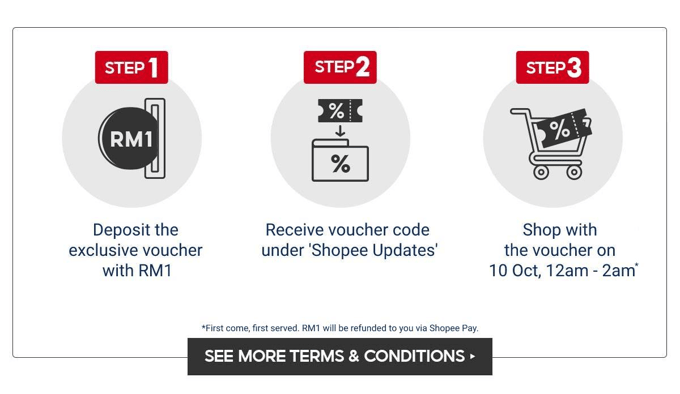 Some items covered by the voucher include:
TP-Link Archer Dual-Band Wi-Fi 6 Router - RM244
Black Shark 3 Gaming Smartphone - RM 2,599
OnePlus 8 Pro (12GB + 256GB) - RM 3,188
Logitech Wired Gaming Mouse G502 Hero - RM169
All in all, Shopee has some pretty cool promos heading your way which you should totally be on the lookout for.
2. Huawei
Techies, it's crucial that you bookmark Huawei's page before sleeping tonight because there are tons of offers that you don't wanna miss out on.
For starters, they are offering RM100 voucher discounts and freebies for some of their most exciting products like the Huawei Watch GT 2 Pro, the Huawei FreeBuds Pro, the Huawei MatePad T10s.
Other than that, their Must Buy Deals are up to RM1500 off!
Some notable deals:
HUAWEI MATE 30 Pro 5G - RM2,699 from RM 4,199
HUAWEI MediaPad M5 Lite - RM899 from RM1,299
HUAWEI MateBook 13 R5 - RM2,999 from RM3,499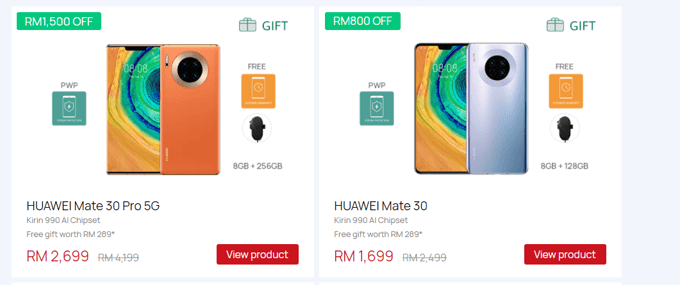 They'll also have a Flash Deal for a limited number of items starting at 10.08am on 10.10. Since these will go on a first come, first basis, it's crucial that you continue to stay on their page as the sale happens to make sure you don't miss out!
HUAWEI Band 4 is selling for a super crazy RM10.10 from its original price of RM139. Only 10 units are available. The HUAWEI FreeLace earphone will be selling for RM110.10 from RM369. Only 30 units are available.

And finally, one of the hottest gifts on that day is the HUAWEI nova 4e, which will sell for RM510.10 from the original price RM999. Only six units are available and all come with a free gift worth RM108.
To tie it all together, HUAWEI customers get to stand a chance to win an amazing price when they follow two simple steps:
Register as a HUAWEI account user and complete a questionnaire CORRECTLY
Subscribe the registered email for lucky draw and latest offers
31 random winners will be picked from participants who answered all the questions correctly. Some of the prizes to be won include a HUAWEI Bluetooth earphone worth RM205, a Wooden Bluetooth Speaker worth RM120 and a magnetic card phone holder.
For a full list of their 10.10 sales, click here.
3. Watson
If you need to restock your health and beauty products, make sure you do so this 10.10 with Watson.
As part of their 10.10 Online Xtra Sale they are offering up to 75% off items as well as free delivery for a minimum spend of RM100.
Make the most of your bargain by taking advantage of their second item at RM0.10 promotion, which essentially offers the second item at only RM0.10! (Crazy, we know!)
A few health, personal cair, haircare, skincare, cosmetics, men products and family planning products come with this offer such as Pearl Drops Ice White Fresh Mint Boost Toothpaste, Kinohimitsu UV Bright, Seven Seas Evening Primrose Oil + Sunflower, SENKA
Perfect Whip for Body, among other items.
Watsons are also offering 50% off items categorised as health, skincare, men, oral, sanitary protection and baby, as well as cosmetics. At the same time, offering 40% off derma skin care, body care, and hair care products.

Other awesome Watson promotional deals include:
Buy 2 and save up to 50% off
Xtra Kaw Deals of up to 75% off
Facial Masks Buy 1 Free 1
For a full list of promotions, click here.
4. Nike
Are you big on sports gear? Well don't look away because Nike is offering a few mouthwatering deals this 10.10.
If you've been eyeing a certain Nike sneaker for a while, now is the best time to make that purchase with the deals that they are offering.
Buy 2 Get 20% off (Code: TEN20)
Buy 3 get 30% off (Code: TEN30)
Buy 4 Get 40% off (Code: TEN40)
Just be sure to read the terms and conditions before making a purchase.
5. Dyson
Perhaps it is time to replace that old vacuum cleaner after years of service. As part of its 10.10 presale, from now until October 11, shoppers get to save RM300 on the Dyson Cyclone v10™ Absolute vacuum cleaner.
Other 10.10 special deals offers customers who buy the Dyson Digital Slim™ Fluffy Pro Vacuum to receive a free tool bag & RM250 voucher for their next purchase.
Other cool offers is purchasing a Dyson Pure Cool Me™ air purifier (Gunmetal/Copper) for only RM1299 (previously RM1699) or purchase a Dyson Supersonic™ hair dryer (Black/Purple) from now till October 11 and receive a free silver case (worth RM299).
For a full list of promotions, click here.