There's a common misconception that paying in cash, as opposed to via a credit card, is always apparently the savvier, wiser, safer and better way. But is it really?
Though not paying your credit card debt on time will definitely cause you to be saddled with debt, the real issue with credit cards are not the cards itself, but your poor financial management!
Interestingly, credit cards can help you save even more money when used correctly—thanks to the abundance of promotions and rewards that you can get for spending with your card. And our belief is, if you are going to be spending, might as well get rewarded for it!
Are you a wee bit of a spender and are looking for ways to make the most out of it? In this article, we'll show you why a Standard Chartered JustOne Platinum Mastercard can be incredibly good for your money thanks to its great rewards.
[toc]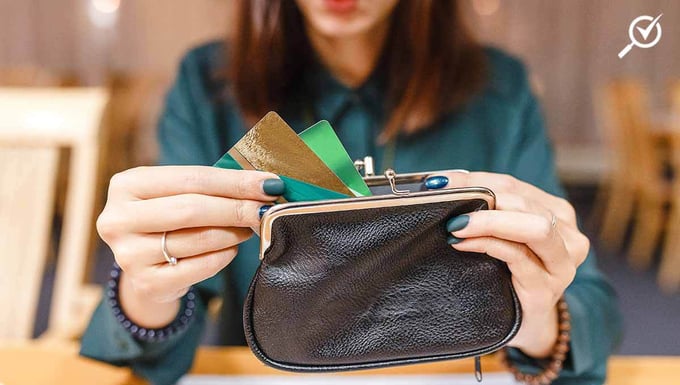 Many banks offer cashback cards, but not all those cards cover a wide range of spending categories. The Standard Chartered JustOne Platinum Mastercard is quite diverse.
1. It offers a good mix of cashback categories
The greatest part about spending with a cashback credit card is getting paid to do so.
With the Standard Chartered JustOne Platinum Mastercard, you can get up to 15% cashback monthly—one of the better rates in the market—with a monthly cap of RM60, when you spend on a diverse set of expenses including online purchases, auto bill payments (only for insurance, telco, and utilities) and petrol. It's also one of very few cards to offer cashback for bills.
One category that isn't covered by this card, however, is groceries, but that's not too bad considering you can always get your groceries on online platforms like Lazada and Shopee. For other categories of spend, the cashback rate is fixed at 0.2% regardless of spend amount.
| | | | |
| --- | --- | --- | --- |
| Spend per month (RM) | Rebate on petrol, online spend, and auto bill | Other retail purchases | Capping per month (RM) |
| Less than 1,000 | 0.2% | 0.2% | 2 |
| 1000 to 1499.99 | 5% | 0.2% | 12 |
| 1500 to 2499.99 | 10% | 0.2% | 28 |
| 2500 & above | 15% | 0.2% | 60 |
Like most other cards, the Standard Chartered JustOne Platinum Mastercard uses a tiered cashback rate system, meaning you'll need to spend more to get more out of your experience. In other words, to get a higher cashback percentage, you'll need to spend more or in this case, at least RM2500 a month to enjoy the capped rate of RM60.
If you spend, on average, RM3,000 monthly for expenses such as petrol, auto bills, online purchases, then we feel you might as well use this card to enjoy the cashback rewards.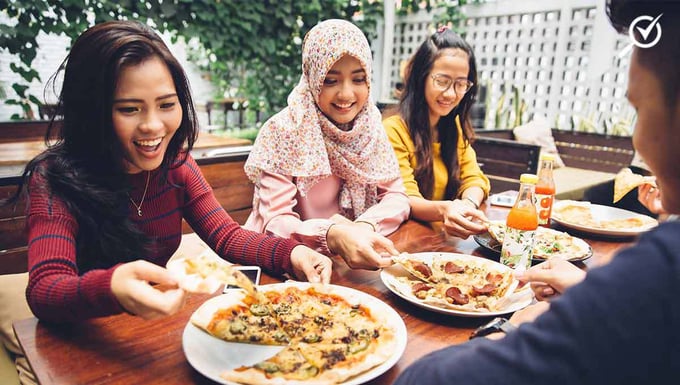 Standard Chartered has a great range of offers for dining, so make sure you are up to date with their latest offers!
2. Going out for a night of fun? A Standard Chartered card could come in handy!
Though this card covers a diverse range of categories in a person's general expenditure, we noticed that there are some areas that it lacks such as grocery, dining and leisure to truly make it an all-rounder card.
But that's okay—because some of Standard Chartered's other ongoing offers can help supplement this need.
Got an upcoming dinner date? Through their #SCFoodieDeals, you can enjoy up to 20% cashback when you spend a minimum of RM100 in a single receipt and up to 33% off your bill.
If you are not into dinner dates but more of a movie buff then don't worry, there's something for you too. This card offers a swanky deal of RM10 per ticket for all movie tickets purchased on GSC's website or via their app. Not a bad deal to consider since cinemas have reopened following months of closure due to the Movement Control Order (MCO).
If you are heading out for a night of fun with friends and you are footing the bill, make sure you take advantage of Standard Chartered's e-wallet offers to make the most bang for your buck.
One deal lets you get up to RM45 cashback with a minimum spend of RM100 on your first top-up on Boost or Touch 'n Go. Check out their daily promotions for more info.
If you don't feel like going out and would rather stay home and Netflix and chill, then couple that with your favourite comfort food to complete your night. Order your favourite meals online via food delivery platforms GrabFood and foodpanda and link them up to your Standard Chartered credit card to get RM8 off.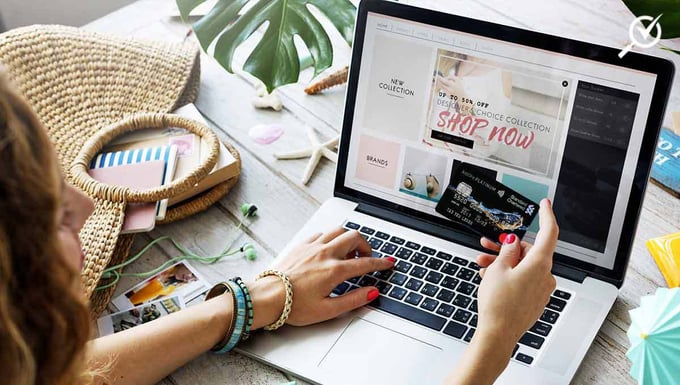 If you are going to be spending, might as well get rewarded for it!
3. Need to buy essentials or overhaul your wardrobe? Shop online for more rewards!
Now, don't get us wrong, we are not encouraging you to be a shopaholic—instead, as we always emphasise, if you are going to spend on essentials or on wants, might as well get rewarded for it anyway.
With the Standard Chartered JustOne Platinum Mastercard, you can get up to 15% off on online spends. Skip the long queue at the mall and get rewarded for buying off platforms like Lazada and Shopee.
What's even better, the card also comes with an e-commerce purchase protection plan of up to USD200 when you shop online. It feels great to be able to shop with some peace of mind and get rewarded at the same time.
When you have the time, it also doesn't hurt to check out their daily e-commerce deals as part of their #SCWOWDeals campaign. Shop like a winner, Monday to Friday, where there's a different deal for you every day.
Plus: Relatively low minimum annual income required
With a minimum monthly income of RM3,000 and annual income of RM36,000, the Standard Chartered JustOne Platinum Mastercard may seem like a reasonably good entry-level card for fresh grads who are looking to apply for their first credit card—at least at face value.
But, we feel this card is more suitable for those who have been working for at least two to three years because to gain from this card, one will need to spend a minimum of RM2,500 monthly, which may not be economically realistic for young fresh grads who, according to latest statistics, earned RM1,001 to RM1,500 on average in 2020. Even with a higher salary of RM3,000, a fresh grad will not be able to realistically spend RM2,500 comfortably.
The great news is that this card comes with a first year annual fee waiver if you are a first time applicant.
To fully maximise the JustOne Platinum Mastercard, you'll need to spend… a lot
To unlock the full 15% cashback potential of this card, you'll need to maximise your monthly expenditure and ensure it's above the RM2,500 threshold. We know, that's a lot of spending.
That is why we feel this card is not suitable for fresh graduates who are just finding their way into adulthood and do not have the luxury of spending that much; let alone earn that much.
If you are a single adult, you may also not get to fully reap the benefits because of the lower spending threshold that you might have by virtue of status.
To earn the RM60 cashback, breadwinners and those with children or a family (including furry kids!) may find it easier to hit the RM2,5000 threshold when paying for essentials. To put it into perspective, the RM60 monthly cashback equates to RM720 in a year!
All in all, it's a great card for those responsible for footing the bill every month and big spenders because these folks can benefit from having a card with one of the highest cashback rates in the market. The card also covers a wide range of categories.
Do you like what you hear? Apply for Standard Chartered JustOne Platinum Mastercard today to earn great rewards. You can either enjoy a short getaway for 2D1N at DoubleTree by Hilton or claim a RM350 Lazada eVoucher. Guaranteed for every approved applicant.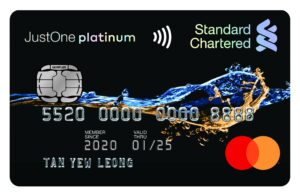 Enjoy up to 15% Cashback on online purchases, autobill payments and petrol
Enjoy 0.2% cashback for all other purchases
Enjoy from RM10 per ticket for any movies at Golden Screen Cinemas
E-commerce purchase protection up to USD200 when you shop online
Annual fee waiver for the first year