People switch credit cards for a myriad of reasons, and for the majority, it's the benefits that entices us. We study them exhaustively and size them up according to our lifestyle and needs, so it's only natural for many of us shoppers to apply for a credit card that can offer us the best kind of reward for our shopping rendezvous.
Which is why we're so excited when Citibank has decided to unveil their latest collaboration with popular online shopping platform Lazada in the form of a credit card. Packed with a plethora of benefits, the Lazada Citi Platinum Card will pique the interest of shoppers alike when they shop on Southeast Asia's largest e-commerce operator.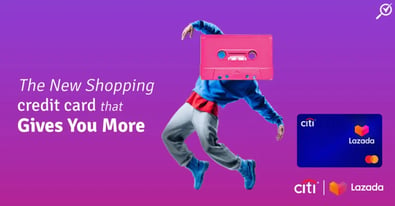 Privileges are not just limited to the bounds of Lazada, it extends to other partners from a variety of industries such as travel, wellness and beauty, and lifestyle. Some of the participating brands include Malindo, Klook, Classpass, Domino's Pizza, and more.
On top of the attractive discount rates and exclusive offers, cardholders can take advantage of the card's attractive rewards points scheme:
Earn 10x points for every RM1 spent on Lazada*
Earn 5x points for every RM1 spent with their partners*
Earn 1x point for each RM1 spent on other transactions.
*capped at a maximum of RM500 spend a month.
In addition, shoppers that have spent a minimum of RM1,500 for all retail spend will be issued a monthly bonus of 1,000 rewards points.
With this card, you get to switch up your accumulated points to reduce your cart amount in Lazada. Spending more is guilt-free when you know there's always points to offset your total bill.
The partnership gets even more exciting for shoppers that are holding the Lazada Wallet as they get to enjoy exclusive cashback benefits when they use the card.
Earn a cashback of RM10 when you use the "Top Up & Save" feature for the first time after adding the Lazada Citi Platinum Card to your Lazada Wallet with a minimum of RM50.
For those who religiously top up their Lazada Wallet on a monthly basis, here's your chance to earn additional cashback of RM10 when you top up a minimum of RM100. This is limited to the first 1,000 cardholders each month all the way until December 2020.
The benefits don't just end there — if you're an avid shopper in the Beauty and Wellness category, the Lazada Citi Platinum Card gives you the opportunity to save up to 50% for selected products in that specific category. These products will be refreshed on a quarterly basis, so you'll always get fresh deals to browse through.
Can it get any better than that? Yes.
Don't miss the opportunity to grab RM500 worth of Lazada vouchers when you apply for the Lazada Citi Platinum credit card! You will be eligible for RM200 Lazada vouchers when you complete the application online and submit the documents in two days without the need of telesales assistance. Citibank's online application has been simplified so the journey is completely paperless and quick. The remaining RM300 will be issued when you spend a minimum of RM2,000 within 60 days.
Other Details:
Annual fee: Principal RM100; Supplementary RM70.
*First year annual fees waived and following year(s) waived if customer spends an annual minimum of RM15,000 during the current year.