Applying for a personal loan with Citibank has never been easier now that you can do it online and get an instant approval* with only 3 simple steps.
Just this year, Citibank took steps to revolutionise their credit card application system. What used to require stacks after stacks of documents and endless queues at the bank, has been simplified to only a few clicks of a button.
See also: Citibank Application is Now 100% Online - What Does This Mean?
Today, the same simplified process has been applied for personal loans. Which means, whether you're applying for a Citibank Personal Loan to remodel your new home or to fund higher education, the process is now faster, easier and instant.
Why Citibank Personal Loan?
Personal loan of up to 10x your gross monthly income
Loan amount of RM5,000 to RM150,000
Low flat interest rates of 5.88% to 9.80% p.a.
Loan repayment tenure from 24 to 60 months
No processing fee
No collateral or guarantor required
Personal Loan Interest Rates & Charges
1-time Stamp Duty
(Ad Valorem)
0.5% of approved loan amount.
Early Settlement Fee
RM200 or 3% of outstanding balance, whichever higher, if loan is settled within first 2 years or before reaching half the tenure, whichever earlier.
Late Payment Charge
(in addition to prescribed rate)
1% p.a. charged daily on past due amount.
For more information, read the Citibank Instalment Loan Terms and Conditions and the Product Disclosure Sheet.
Who Can Apply?
Malaysian citizen/P.R. and working in Malaysia
Minimum age of 21 up to a maximum of 60 years old at the time of the loan maturity
Minimum income of RM4,000
Holds any bank's Credit Card/Home Loan/Personal Loan/Car Loan/Overdraft for more than 24 months
Income and documents required:
Salaried Employee
Self-Employed
Salaried Employee
Minimum Income: RM48,000 p.a.
Documents Required:

Photocopy of MyKad (Both sides)
Latest EPF statement
or
Latest 2 months' salary slip
and/or
Any of the following documents where required:

Latest BE Form with tax receipt
3 months bank statement
Latest EA form (dated within the last 12 months)
Self-Employed
Minimum Income: RM48,000 p.a.
Documents Required:

Photocopy of MyKad (Both sides)
Photocopy of Business Registration Form
Latest Form B with tax receipt
*Note: For self employed, business must be established for at least 2 years.
For a loan amount of RM5,000 with 36 months repayment period, the monthly flat interest rate is 5.88% (EIR 10.90%), and the monthly repayment amount is RM163.50 (from total repayment amount of RM5,882).
How To Apply?
The loan application process has never been easier. Complete 3 simple steps and get approved* instantly. So easy, you won't even need any telesales assistance.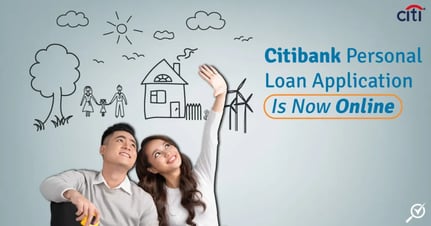 Step 1: Contact details
This is the first step of Citibank's online application form. You are required to provide your particulars including your name and contact details. Check the box if you've read and agreed with the terms and conditions.
In this stage, you are required to fill in your identity details as well as to upload a photo of your identification card/MyKad. You will also be prompted to fill in your employment details and loan information.
Once you have completed those 3 simple steps, you will enter the "In-Principal Approval"* stage where all those information will be processed and the system will decide if you are eligible for the personal loan almost instantly. If you are rejected at this stage, you will not be able to proceed further.
* The loan final approval is subject to Citibank's credit assessment.
You will then be directed to the last two following steps when the system verifies your eligibility for the personal loan.
You'll be directed to this step if the system approves your loan. Here you will be prompted to choose how you would like to receive your loan as well as your preferred communication method.
This step requires you to upload the relevant documents required for the application process.
Congratulations! You've made it to the last step. You'll find the PDF version of your application to review again.
It can't get any simpler than this.
Apply for a Citibank Personal Loan today.